Rattan furniture and wicker furniture are the same? Wicker is just all about woven baskets? What are the differences between wicker, rattan, cane and willow? This article will clear the issue around these terms 'rattan vs wicker' and help you get updated about each characteristic. Now get started!
1. Rattan vs wicker: They are not the same
Rattan and wicker are two terms that have been frequently used interchangeably for so long. They are quite confusing. However, rattan vs wicker are not the same. In fact, rattan is a material while wicker refers to a techniqueof weaving.
What is rattan?
Rattan is a palm that grows well in the tropical regions of Africa, Asia and Australasia, especially South and Southeast Asia in which Indonesia is the main area for rattan production. An interesting fact is that rattan grows faster than trees, as well as it is easier to harvest and transport than timber.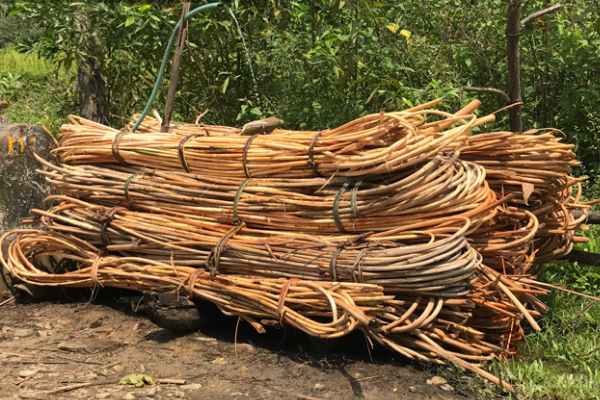 The majority of rattan is collected in the forest. For harvesting conveniently, rattan is also planted carefully in the own garden of local people. In Vietnam, rattan grown in the garden delivers better quality because it is provided with proper care. Therefore, its price is higher in comparison with rattan growing naturally in the forest.
Unlike bamboo which is hollow and unable to bend, rattan has a solid stem — light, durable and relatively flexible. Rattan is used for many purposes such as food, furniture, shelter, and handicraft. In handicraft, rattan appears in various homeware products with extra sturdiness.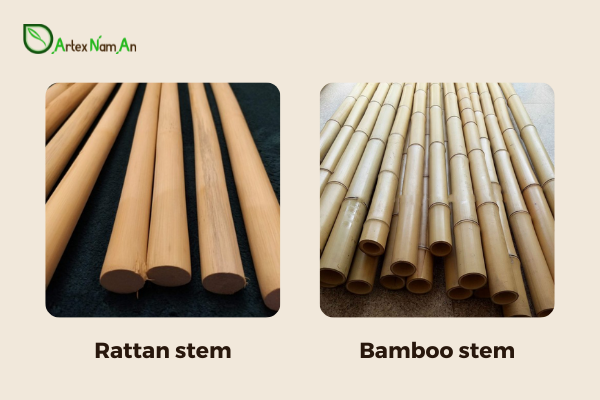 What is wicker?
Wicker is a method or technique for making products woven from pliable plant materials. Today, wickerwork is made using natural materials like rattan, willow, reed, seagrass, water hyacinth, jute and bamboo, and also synthetic fibers such as vinyl and resin. In other words, seagrass baskets or rattan baskets are all regarded as wicker baskets.
Natural wicker is known for its strength, durability as well as its beauty and natural comfort. Materials can be the whole thickness of plants (willow switches), or just the cores of rattan (rattan core strands). Made from plants, natural wicker is meant for indoor uses only. It also requires special care and maintenance to keep it in good shape.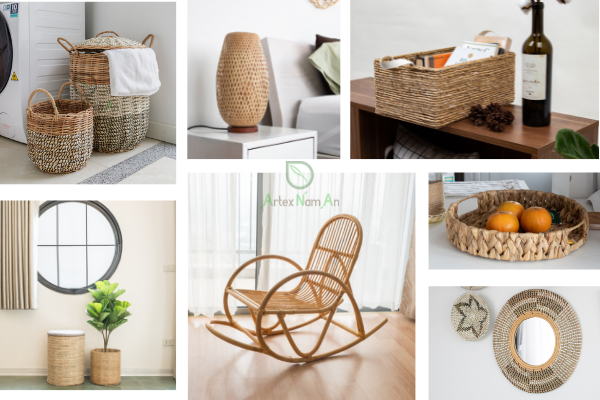 Wicker can also be made from synthetic materials, or a combination. Synthetic fibers get nearly the same look as natural fibers, especially rattan and willow. The synthetic wickers are durable and weather resistant, so they are often preferred for outdoor use ("all-weather wicker").
>>> See more:The New Wicker Collection – Home & Garden Trends 2022
2. Cane is actually from the rattan plant
Rattan cane
Cane is actually from the rattan plant. The word "cane" means the stem-section of plants, so the "rattan cane" is the stem of the rattan plant. Rattan canes (also called stems or poles) with large diameters are mainly used in making furniture.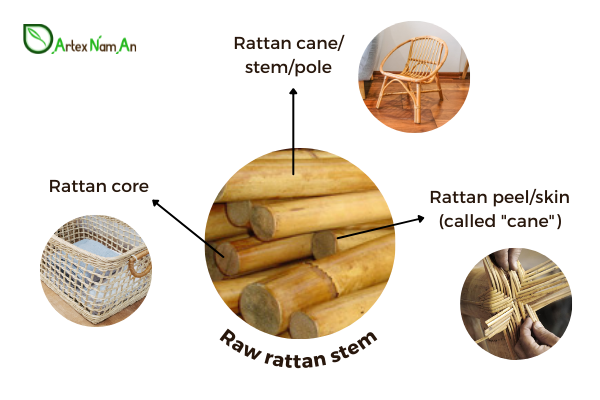 Rattan cane strands
In manufacturing, the term "cane" also refers to the strands of rattan's outer skin or peel. Cane strands are smooth, flat, light, and mold-resistant. Cane is extremely strong and durable for making baskets or wrapping the joints of rattan furniture. This is commonly woven into webbing (also called rattan cane webbing) that functions well as decorative additions for homeware items such as woven baskets, trays, furniture.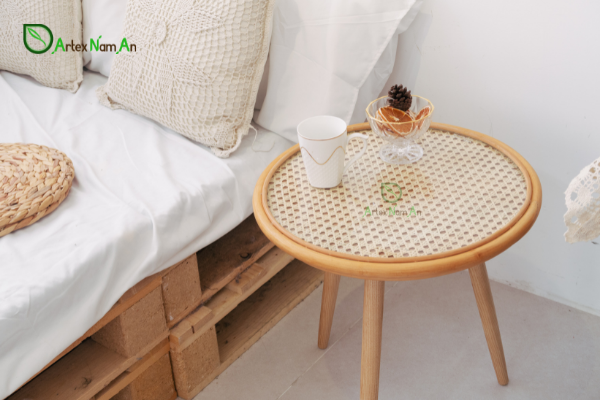 Rattan core
Rattan stems are also peeled to get rattan cores. These cores will then be split into long round strands for weaving products such as storage baskets, indoor planters, lampshades, or mirror frames. Thin rattan core strands have a matt finish and very strong, sturdy nature, but not as smooth, soft and flexible as rattan peel or willow.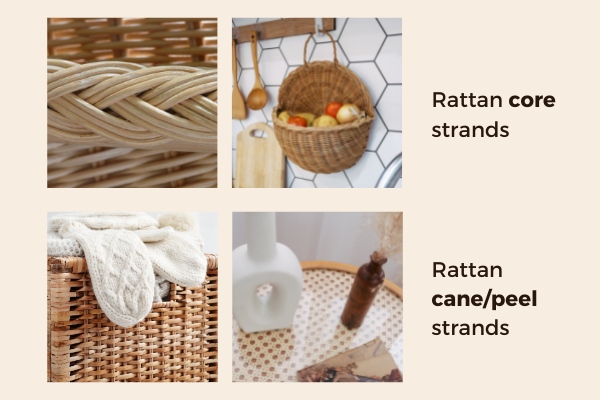 3. Rattan and Willow are two different materials
Willow is found mostly on moist soils in cold and temperate regions of the Northern Hemisphere (it doesn't grow in Vietnam). Willow is a popular option for making homewares, especially baskets thanks to its superb strength, flexibility and durability.
Rattan vs Willow
As regards characteristics, willow features a more soft and flexible nature than rattan, which is easier to be bent and woven. Rattan needs to be steamed before being twisted and bent. Therefore, labor costs for making willow products are much lower.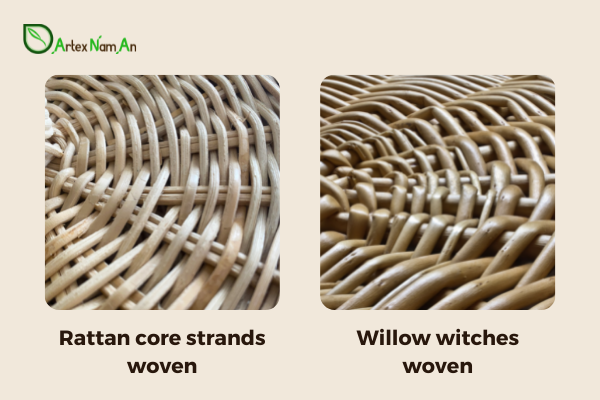 The look of rattan and willow are quite similar, but you will see differences here. In terms of finish, rattan core strands are quite rough and matt; meanwhile, willow looks more smooth and glossy. It's because rattan strands used for basketry are already split from rattan cores, so they don't include shiny peels. In contrast, the whole willow branches are used for weaving, without being peeled.
Hope this article will be helpful for you when choosing suitable materials for your products and communicate efficiently with homeware suppliers or manufacturers. To sum up, rattan vs wicker are not about just one thing, rattan is a material, wicker refers to a weaving technique. Cane is from the rattan plant. Rattan and willow are two different materials with each typical characteristic.