Established in 2013, we pride ourselves in offering global buyers most effective & cost-saving solutions, whether they are hunting fresh & trending designs, in need of new custom-made natural and organic products, or seeking a supplier that can turn their designs into reality. With expertise, innovation & creativity, we can do it in the best possible way.
How can we help your businesses thrive?
What customers say about us
Really want to share my thanks for all the efforts Adam and Artex team are deploying on our development. I am very aware how much time and energy they are spending on this and we will do our best to reward them with as many orders as possible soon.
Our manufacturer from Vietnam, who have been making our products from day one, are an extension of our team. We have been together for 5 years - when both of us started out! We are fortunate enough to see them regularly in Vietnam and on home soil!
Very nice designs! I really liked their products! Also very supportive & helpful
They are the most professional Vietnam supplier I have worked with. They are considerate, quick on the draw and have a good expertise.
Let's make life more eco-friendly!
Our ambition is to promote a more eco-friendly lifestyle through a wide distribution of beautiful eco-friendly products globally.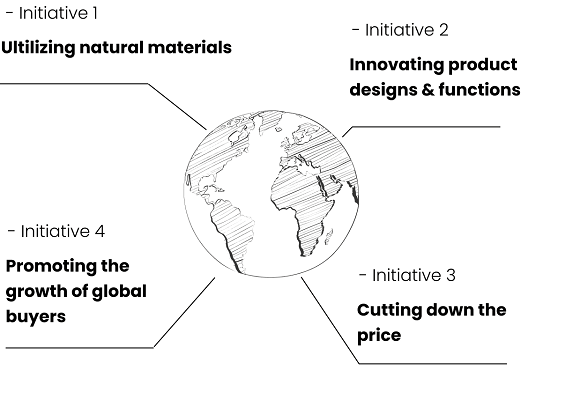 Have a project, Let's talk!
We welcome you to share with us helpful information about your upcoming project!
Whether you're in search for new designs, need new custom made products or would like us to manufacture or source upon request, we always have a creative solution within budget for you.
Drop us an enquiry here and our team will contact you within 24 hours!
Lead the scene and go for green!
Frenquently Asked Questions
> Can I get a Catalogue?
If you want to check out our newest products, please explore our Website or Alibaba shop since we update these channels on a daily basis. Most of our current Catalogues are composed of 3D designs developed by inhouse R&D team. Feel free to check them out here.
> Do you sell retail?
No, currently we only sell wholesale. You can refer to our wholesale policy here
> Do you hold inventory?
No, we don't stock products. We only handle made-to-order projects, in which mass production only began after deposit.