What is the difference between rattan and wicker? Can wicker baskets be made from seagrass? It seems many people including homeware buyers get confused with two terms. Keep reading for detailed explanations about rattan vs wicker and each one's characteristics!
Differences between Rattan vs Wicker
Basically, rattan vs wicker cannot be compared to each other. They are two different things. Rattan is a natural material for making homewares and furniture. But in fact, wicker is a style of weaving, or a method of producing homewares from pliable plants.
Wicker is often labeled as rattan and willow materials. However, wicker can refer to many other natural and synthetic fibers. That's also why we cannot compare whether rattan vs wicker is stronger.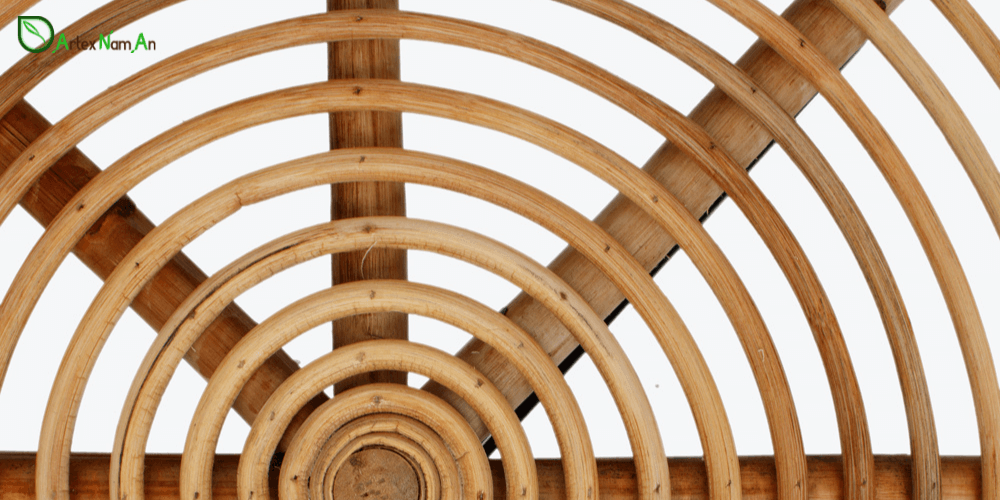 What is Wicker?
What is Wicker made from?
As we mentioned above, wicker is a style or a technique of how homewares and furniture are woven from pliable plant materials. Wicker refers to not only natural materials (natural wicker), but also synthetic fibers (synthetic wicker).
In Vietnam, several popular natural materials are water hyacinth, seagrass, rattan, bamboo and jute. Synthetic fibers include vinyl, resin, polyethylene, etc. Thus, baskets made from pliable fibers can be called wicker baskets.
Differences between Natural vs Synthetic Wicker?
Natural Wicker
Natural wicker not only has great strength and unique aesthetics; however, it should be just used indoors. Natural wicker products should be kept out of wet, high-humid places and not exposed to direct sunlight. Otherwise, they will fade its color, get moldy, or get too dry, brittle, break and crack.
>>> Explore natural wicker: Differences between Water hyacinth vs Seagrass
Synthetic Wicker
Synthetic wicker is the non-natural materials used for producing furniture and homewares, such as resin and poly rattan. Suppliers often try to mimic the look of rattan weave for synthetic wicker.
Synthetic wicker can be used both indoors and outdoors. That's because this is known as an all-weather wicker — super durable, moisture-resistant, not fade, stain and crack in the sun and outdoor conditions. Synthetic wicker is also easy to wash and less expensive than natural wicker.
What is Rattan material?
Introduction
This is an 100% eco-friendly material. Rattan is a natural spiny, climbing palm that features long, tough and solid stems. Slender stems of rattan have a diameter of 1-5 cm, and can reach a length of about 30 meters. The stem is nearly uniform in thickness along its length.
Rattan is widely found in the tropical and subtropical rainforest areas like Australia, Southeast Asia, West Africa, the Pacific. South-East Asian nations are the top producers of rattan products and raw materials.
Rattan Qualities
Speaking of physical properties, rattan cane and skin have a beautiful golden color. Meanwhile, rattan cores may have different tones such as natural white and brown, depending on species and regions.
Rattan has long been famous for toughness and flexibility. This material is also lightweight, allowing users to handle and move with ease. With the durable, sturdy nature, rattan products can function well for at least 5 years and more.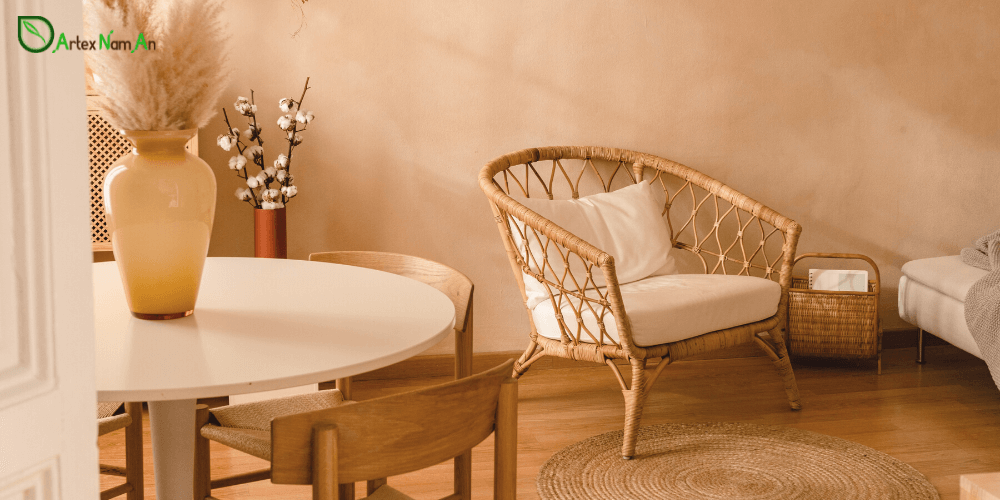 An interesting fact is that rattan can withstand extreme conditions of humidity and temperature better than several pliable fibers (water hyacinth and seagrass).
That being said, rattan shouldn't be used outdoors 24/7 because it is not totally water-proof and weather-resistant. If rattan products are put in the bathroom or other humid environment for so long, they're likely to develop mold and reduce the bearing capacity of rattan.
Rattan Harvest & Processing
Rattan harvesting is very tiring and risky. As most rattans are found in wild forests, it takes local people a lot of time and effort to travel, harvest and transport rattan to processing sites.
Also, rattan is sometimes in short supply. Typically, Indonesia, the top exporter of rattan material and products, has limited the amount of rattan being harvested to address deforestation and overharvesting.
The book Rattan Terminologies also states that the processing and manufacturing are complicated. Also, local artisans have to carry out many intricate stages (oil curing, fumigating) to make rattan more durable and kill insects. Because of all these factors, the rattan's price is often higher than other materials.
Rattan Components
Rattan cane
Rattan vs cane is also confusing to many. Cane is a harvested, cleaned rattan stem cleared from sheaths. Large diameter canes are commonly used for producing furniture, while small ones are used for making baskets, planters, trays, lampshades and other homewares.
Large diameter cane: A class of rattan canes with a diameter of 18mm and above
Small diameter cane: A class of rattan canes with a diameter of below 18mm
There are three types of rattan cane for making homewares and furniture. They include (1) Natural rattan cane – with the skin intact, (2) Scrubbed rattan cane – with the skin scrubbed to get rid of stains and deposits on the skin, and (3) Peeled rattan cane – with the skin peeled off.
Be informed that once removing their skin, rattan canes get a higher chance of getting moldy. The outer skin works as a protective layer of rattan cane.
Rattan core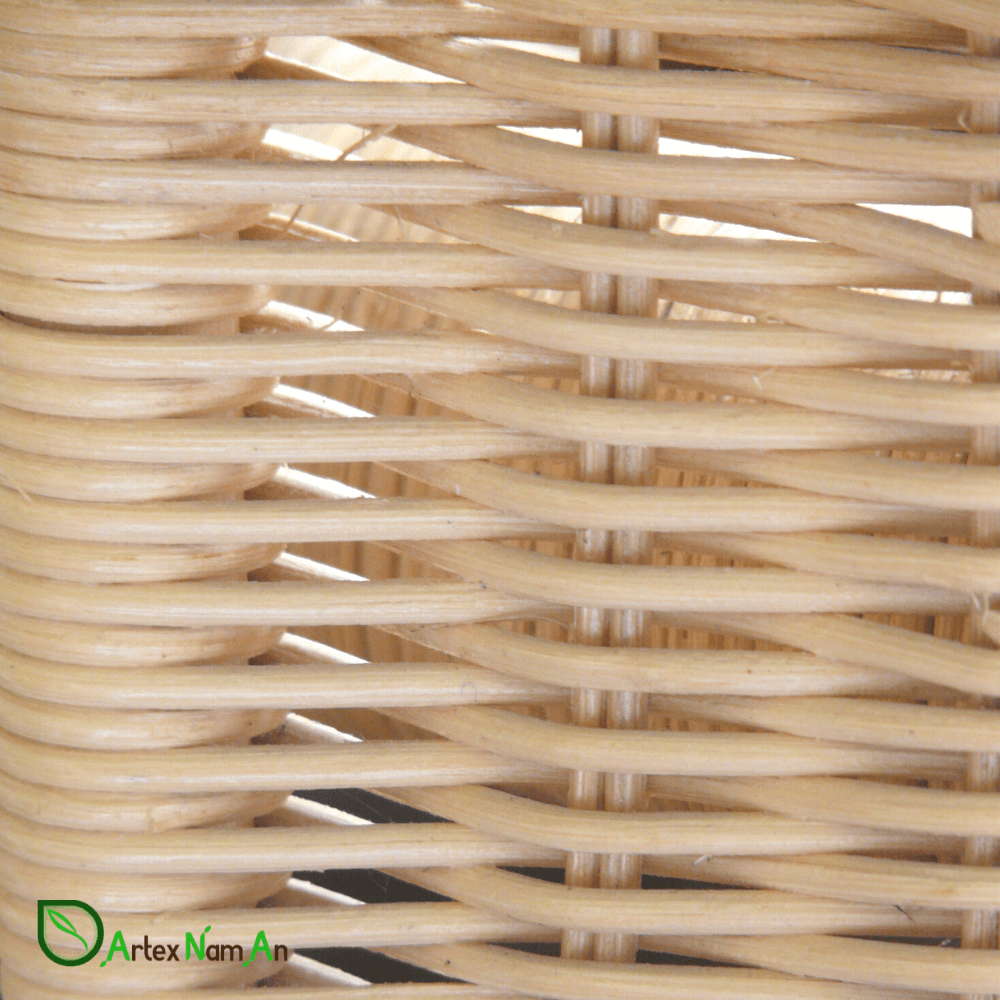 To get rattan core and skin from rattan canes, processors divide the canes lengthwise either manually using a knife or by mechanical means.
Rattan cores exist in a range of shape and diameter. The diameters of the rattan cores range 2-10 mm in width.
In Vietnam, local artisans often use round core threads for weaving Vietnam wicker baskets, wicker dinner trays, indoor wicker planter, lampshades, wicker pet houses, baby toys, etc.
Rattan skin
Rattan skin (rattan peel) is extracted from rattan cane. The skin is flat or semi-circular with a width of 2-10mm. It is highly pliable, a bit shiny, durable, hard to damage and get mold.
It is usually used for weaving baskets, binding the joints of furniture and making rattan webbing for decorating furniture or other homewares. Rattan webbing (also called rattan cane webbing) is usually produced by machine, and this comes in many patterns.

Rattan Homeware Categories
Rattan vs wicker are not only applied in making furniture, but a broad assortment in the home industry. Vietnamese artisans commonly produce the following typical ranges of rattan — Home Storage, Indoor Planters, Home Decor, Lampshades, Kitchen & Tableware, Pet Products, and Baby & Kids.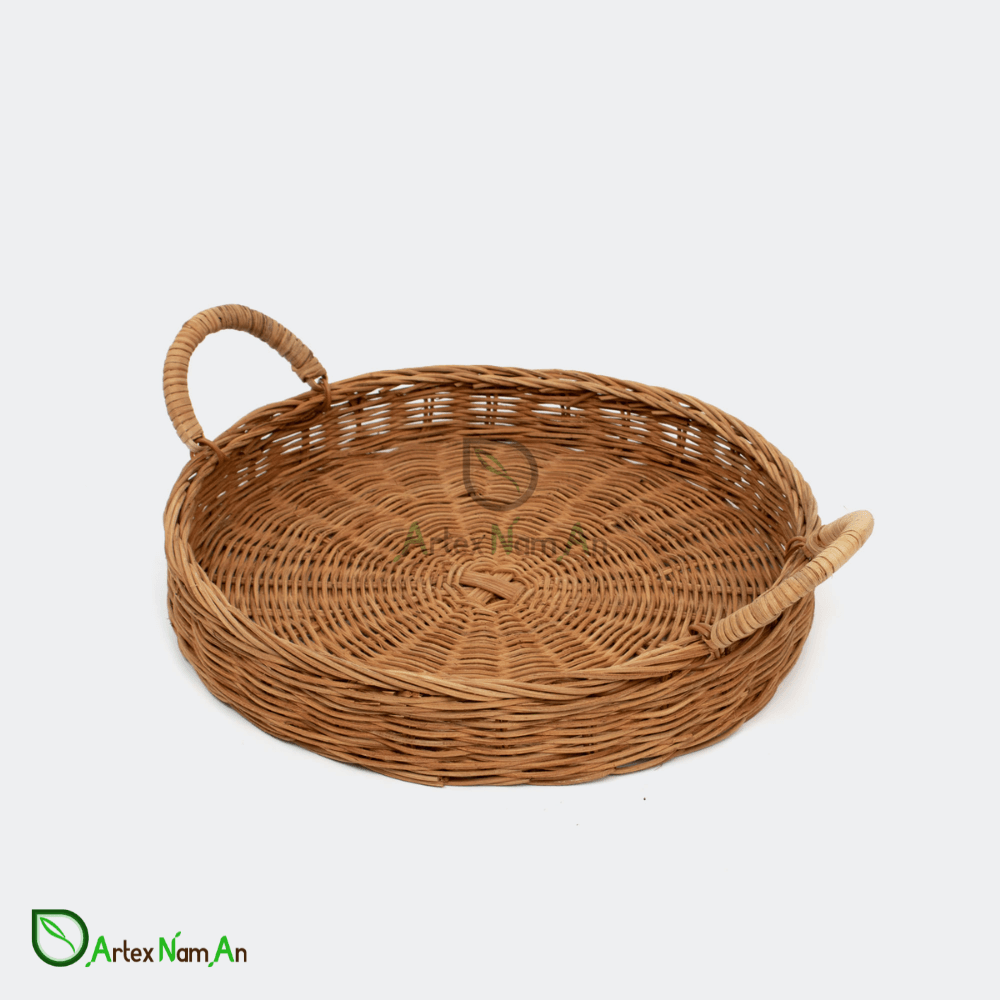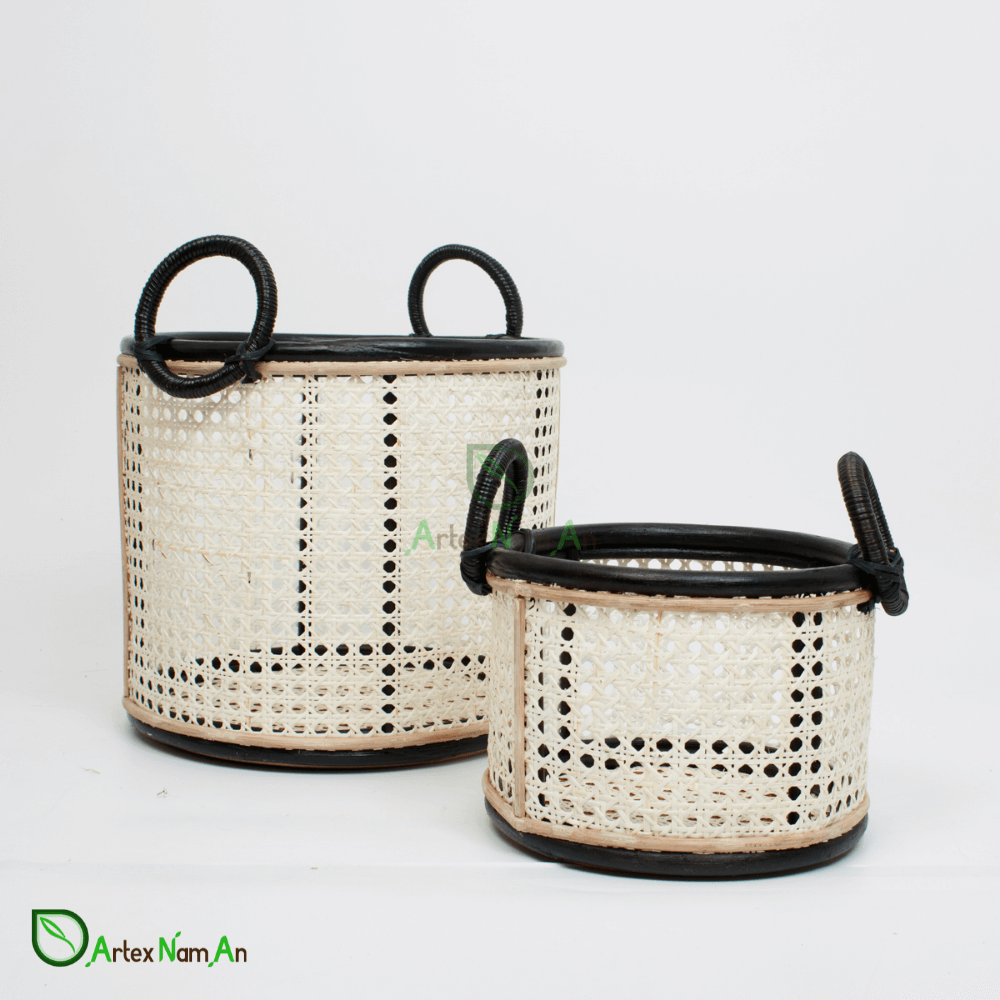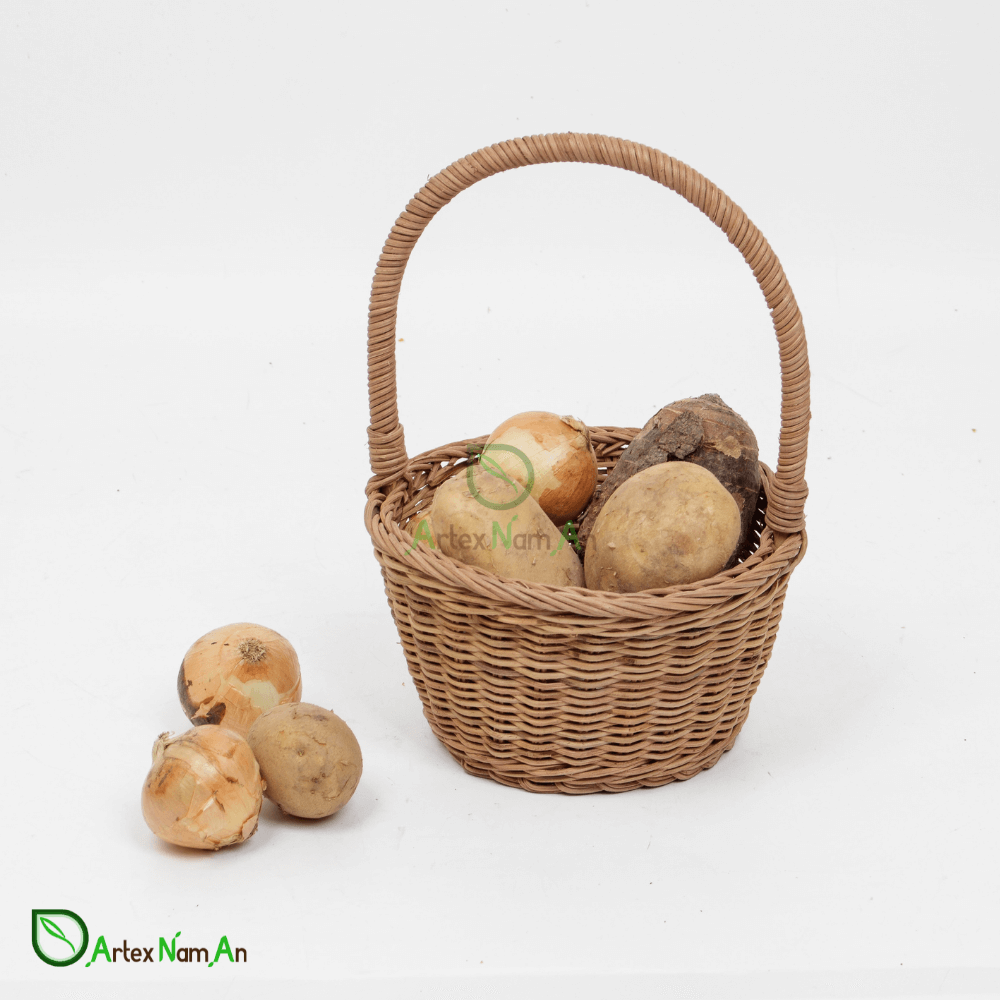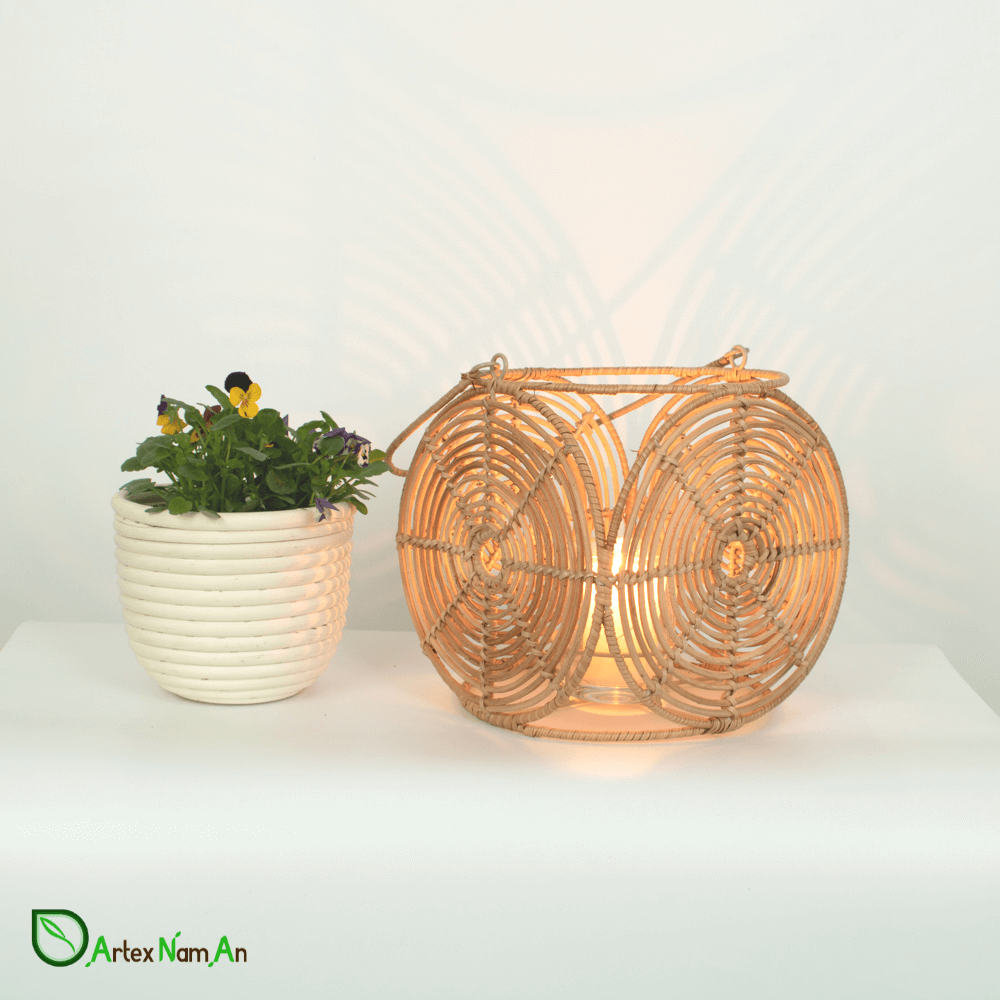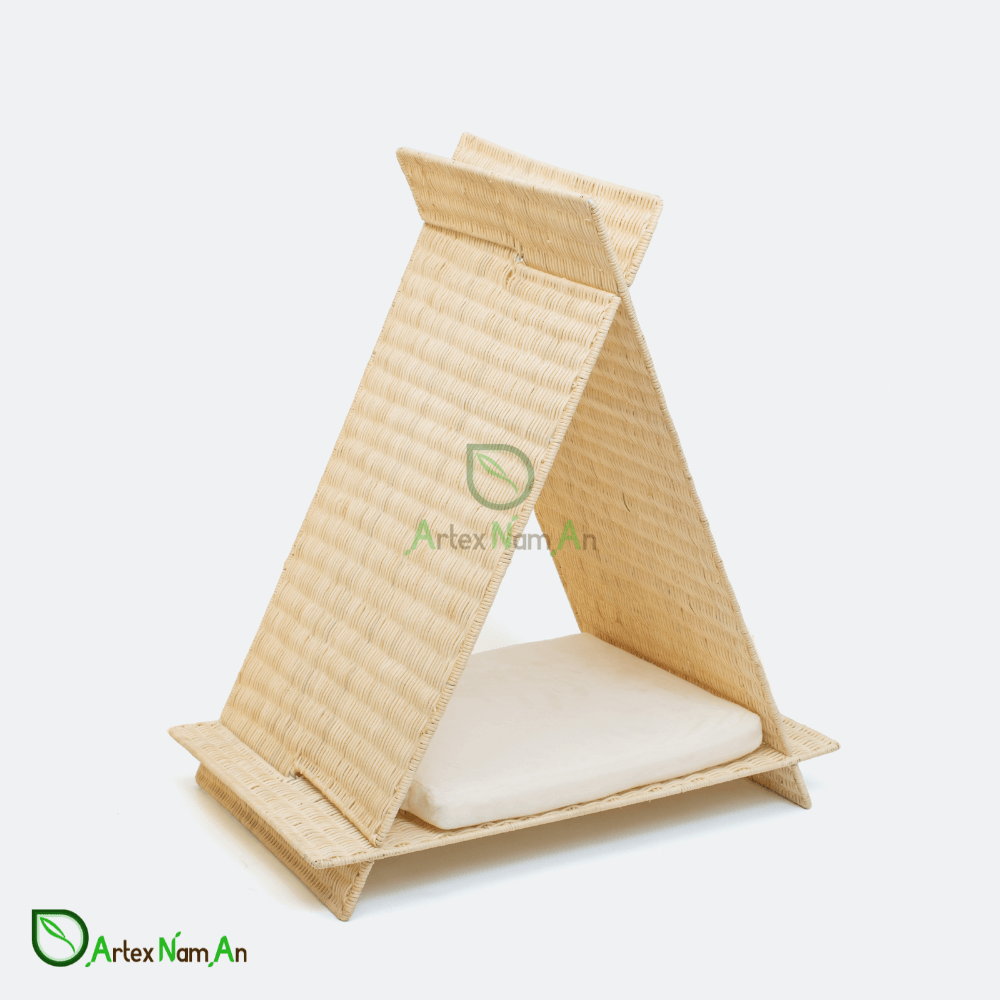 >> Figure out more insights: Rattan vs Wicker vs Cane vs Willow?
Should you take an interest in more natural rattan vs wicker home products, kindly contact us for tailored product collections or download 2022 Homeware Selections below!