Are you looking for wholesale home decor suppliers in Vietnam? Do you struggle to find trusted ones for long-term partnership? In this article, we can help you out with detailed guides about where and how you can find reliable Vietnamese home decor manufacturers.
1. Why you should buy wholesale home decor from Vietnam suppliers
In recent years, Vietnam is the second-largest exporter of home decor products to the U.S and European markets, just behind China. And benefiting from the US – China trade war, Vietnam is considered as a promising manufacturing destination for global businesses.
Labor costs in Vietnam are lower than those in China and other developing countries such as Thailand and the Philippines. Also, with traditional handicraft and an increasing population annually, Vietnam gets young, highly skilled workforces for high production volume of home decor.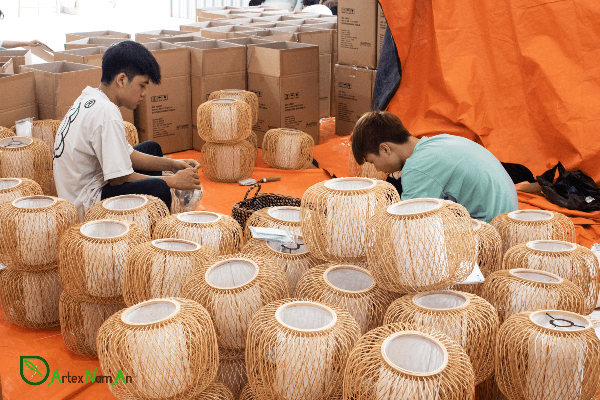 Vietnam is well known for a variety of natural materials throughout the country. So, it is not hard for you to find suitable natural fibres for manufacturing natural home decor products from bamboo, seagrass, water hyacinth to rattan, jute, palm leaf and so on.
2. Where to find wholesale home decor suppliers
2.1. Online B2B marketplaces

Despite its main focus on China suppliers, Alibaba is still a B2B marketplace with many Vietnamese suppliers in diverse ranges, especially the home decor category. Therefore, finding a wholesale home decor supplier on Alibaba is quite easy. Just start with "Supplier by Regions", then choose Vietnam and then select the "Home & Garden" category!
Similar to Alibaba, Global Sources has databases with most China suppliers, but you will still find a variety Vietnamese suppliers on this website. For the home decor category, choose "Home Products" and "Supplier List", also with "Vietnam" by country to see more Vietnamese suppliers specializing in home decor products!

2.2. Directories
Vietnam Handicraft Exporters Association (VIETCRAFT) is the representative organization of all handicraft, home décor, home textile and gift manufacturers and exporters in Vietnam. Choose "Handicrafts and Home Decoration" in the "Find by product sector" to explore a list of wholesale home decor suppliers in Vietnam!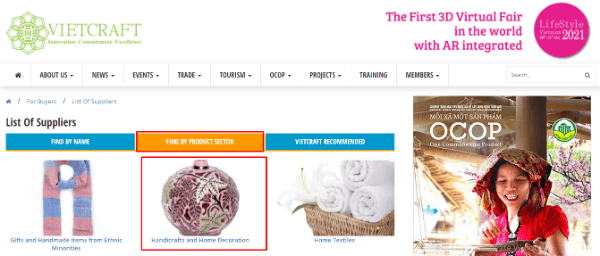 As an official business information channel, Vietnam Export Portal (VIETNAMEXPORT) offers information about verified exporters in different categories. That means it enables you to look for reliable Vietnam-based suppliers in the home decor category. Let's click on "Verified Exporters", then select "Handicraft" for further specific information of these suppliers!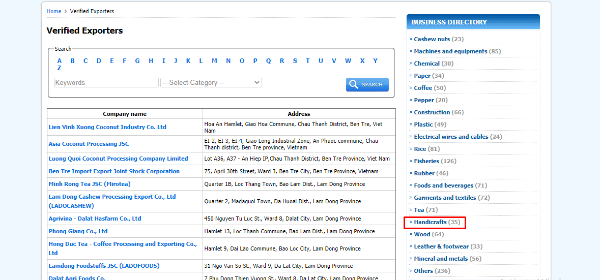 Another resource is Vietnam Yellow Pages – the largest trading channel where you can find quality manufacturers and suppliers based in Vietnam. If you are looking for wholesale home decor suppliers or manufacturers in Vietnam, visit the website and then choose "Vietnam Handicraft" for the list of reliable ones!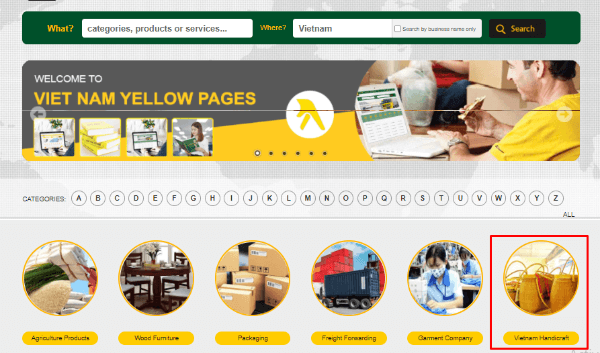 Global Manufacturers is a wholesale trade platform for both global buyers and suppliers for over 13 years. This platform provides you with a list of various Vietnamese suppliers in different categories that include home decor. To find home decor suppliers or manufacturers for your business, choose "Vietnam" by country and "Home & Garden" by category!
2.3. Google keywords
It doesn't sound viable, but Google can give you great help when it comes to searching for trusted wholesale home decor suppliers in Vietnam. How will we make full use of Google? Try several long-tail keywords – and they will be able to show direct results for your needs!
Here are some of our suggestions:
wholesale home decor suppliers Vietnam
wholesale home decor manufacturers Vietnam
wholesale home decor vendors Vietnam
home decor wholesale suppliers Vietnam
home decor manufacturers Vietnam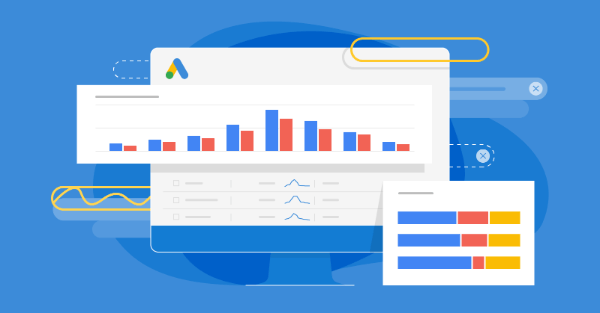 2.4. Tradeshows
If possible, we suggest participating in trade shows and fairs specialized in wholesale homeware, home storage, home decor products. These will give you great opportunities to get to know many Vietnamese wholesale home decor suppliers, see their products in person and easily evaluate quality as well. Let's check out several exhibitions or fairs that you can attend!
Lifestyle Vietnam
Hanoi Gift Show
Mega Show Hong Kong
New York NOW
Ambiente Frankfurt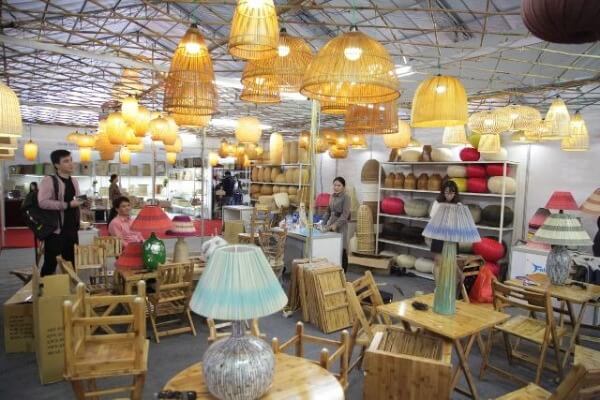 2.5. Referrals
If you have friends or colleagues who already worked in the category, don't hesitate to ask them for more information about trusted suppliers!
Particularly, they communicated with suppliers' Sales Representatives, received quotations and placed orders. So basically, it means they can give you direct feedback from those suppliers' product quality, prices and services for your reference.
3. How to evaluate Vietnamese wholesale home decor suppliers
When finding new suppliers, it is of great importance for you to evaluate properly before reaching any business decision. In the home decor category, we have some suggestions that you can give a try to value a wholesale supplier or manufacturer. Discover now!
3.1. Check suppliers' website
Website is one of their main online channels that you can easily access to Vietnamese wholesale home decor suppliers. After getting the website URL, consider contact information, product page and also check the age of the website domain as well!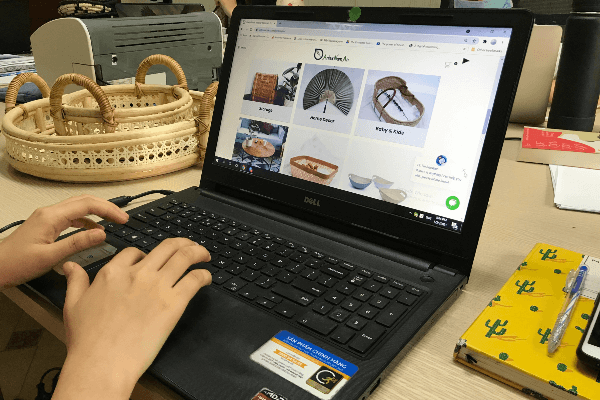 Please keep in mind that not all experienced manufacturers or suppliers in Vietnam have a good website. Many of them have worked in the field for decades, but not invested in their website yet.
3.2. Evaluate product portfolio
Aside from looking at the product pages on their website, you should ask for catalogues from wholesale home decor suppliers. It is an easy way to assess their design and manufacturing expertise – an important factor to consider carefully when finding new suppliers.
3.3. Check certificates
Find information about suppliers' certificates on their website, or ask them directly about their certificates such as BSCI, ISO 9001, CTPAT. It is about verifying suppliers' performance from manufacturing technology, factory equipment, to production capacity. Also, you can make sure products are made by skilled workforces in safe, healthy working conditions.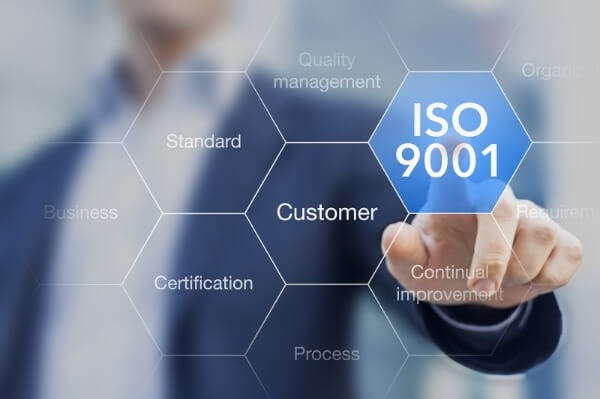 3.4. Directly contact with suppliers
We highly suggest you should directly contact suppliers, ask about MOQ, lead time, working process and request for quotation, samples. In particular, sampling is very helpful for your business to evaluate product quality before reaching decisions. What's more, you will be able to access their communication style, attitude, and support service as well.
>>> Learn more about Best time to order eco-friendly products wholesale from Vietnam
Looking for new wholesale home decor suppliers in Vietnam is not hard, but it can get easier if you try some tips about where to find and how to evaluate suppliers. That not only helps you accelerate the process but also reach out to trusted suppliers with specialist expertise.