You might hear about FCL vs LCL shipping if you have experience in importing and exporting your goods. This article will shed light on the differences between FCL vs LCL logistics, and also clarify their benefits and drawbacks. Thus, you can arrive at a proper decision on a more beneficial shipping option for your business.
1. What is FCL vs LCL?
FCL and LCL shipping are two common terms used in the international logistics industry for export and import freight cargo by sea.
FCL = Full Container Load
LCL = Less than Container Load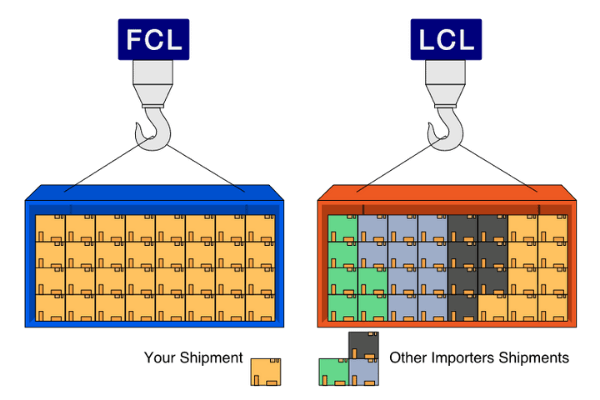 FCL logistics is a method of transporting goods in which your shipment occupies a full container (of any size). LCL logistics refers to many shipments sharing container space. It means if your cargo doesn't require a full container capacity, it needs to be combined with other importers' LCL shipments and then transported within a container. That's why LCL shipping is also known as 'Consolidation' or 'Groupage'.
2. Compare FCL vs LCL
Transit time
It is obvious that LCL shipping takes more time than FCL shipping due to consolidation and deconsolidation. To be specific, the service companies have to group many shipments, classify and pack them into containers, then arrange transportation for the goods from the port of loading (POL) to the port of destination.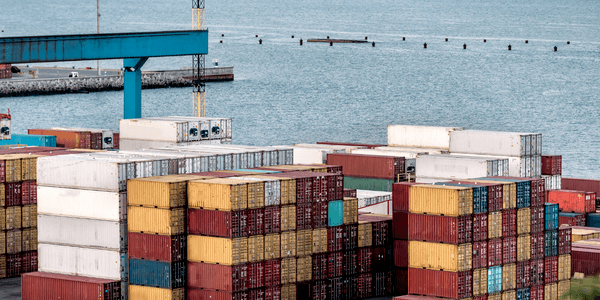 During the customs clearance process, if there is an issue with a certain shipment, it may affect all importers who have cargo in that container, and cause delayed deliveries. Meanwhile, FCL shipments don't need to be loaded and unloaded together with other shipments, so its transit time is usually one or two weeks faster.
Shipping costs
Normally, LCL costs more than FCL per unit of freight. LCL cost is calculated primarily by volume, usually in cubic meters (CBM), which means the more space you need, the more you pay. Freight agents and shipping lines prefer a full container load (FCL) — it's much easier for them than calculating how individual shipments can fit in a full container.

Per unit, the costs of LCL shipments are costly as they include additional logistics and management charges regarding shipping multiple goods in one container. According to Freightos, LCL price quotes from freight forwarders entail:
Pickup: the cost of picking up your goods from the warehouse or factory.
Origin: your LCL shipments need to be loaded onto containers along with other shipments, or consolidated, at a Container Freight Station (CFS), also referred to as container stuffing.
Main leg: the cost of the sea journey.
Destination: at the destination country, LCL shipments need to stop at a CFS for deconsolidation, also known as unstuffing.
Delivery: the cost of trucking your goods to the destination warehouse.
Despite being the main leg of the shipments, this cost may not be the most expensive. Instead, charges at the CFS can be at a premium as they involve significant machine and manpower.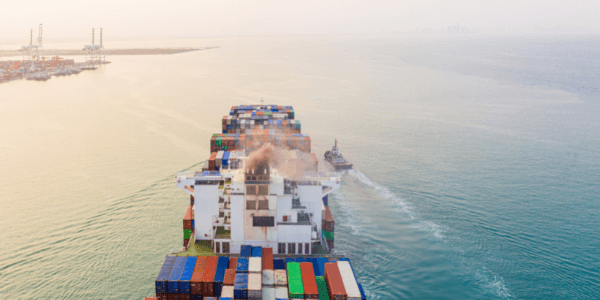 Risk for goods
Because there are many types of goods packed in one single container, LCL shipments face higher risk of damage and loss than FCL shipments.
When it comes to LCL shipping, you normally don't have the right to choose where to place your own goods in a container. This can cause harm (contamination, spillage, damage) to your goods in transit when it is packed together with other special goods such as liquids, heavy goods or goods with a peculiar smell.
3. Summary: FCL vs LCL Pros & Cons
From the above analysis, FCL logistics seem to be more economical for importers, particularly in the context of soaring ocean freight rates in 2022, but it cannot be ideal for all goods. Sometimes, LCL shipping would be a better choice if your shipments are low-volume (between 2 and 13m3). Below are the main benefits and drawbacks of FCL vs LCL logistics for your reference.
FCL Logistics
LCL Logistics
Benefits
– Faster transit time
– Less potential for damage
– Lower price per unit
– Far cheaper costs than air freight
– Better for shipping small loads
– Less inventory costs & management
– Lower sourcing risk
– Easier to find space during peak season
Drawbacks
– Higher inventory costs
– Expensive for small loads
– Unloading can be a hassle
– Few delivery options
– Longer transit time
– Higher cost per unit
– Delays can arise
– Higher chance of damage
FCL vs LCL Pros & Cons
In conclusion, the choice to use between ocean FCL vs LCL shipping methods depends much on the conditions and purposes of the consignees (importers) — including the supply of goods, the size of the capital and the quantity demanded of the consignee or the characteristics of the imported goods such as its suitability for long-term inventory in large quantities.