Seagrass is among top natural materials used for producing homewares in Vietnam. This fiber is mainly applied for wicker baskets bulk with various shapes, sizes and styles. Below are top 6 popular seagrass weaving styles for eco-friendly storage baskets wholesale made by Vietnamese artisans.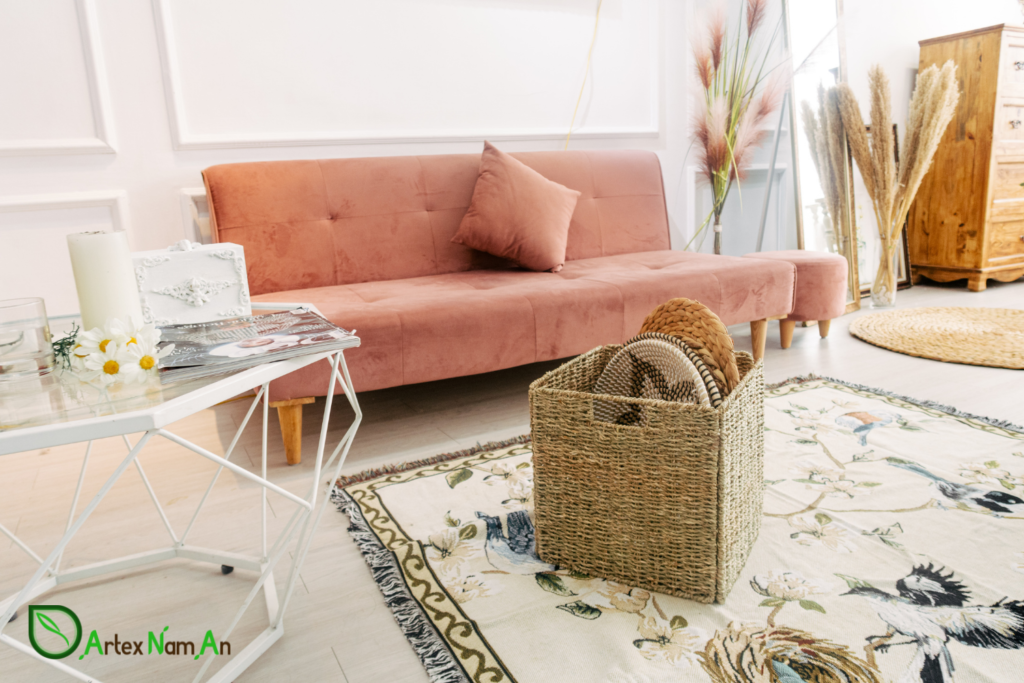 1. Split Seagrass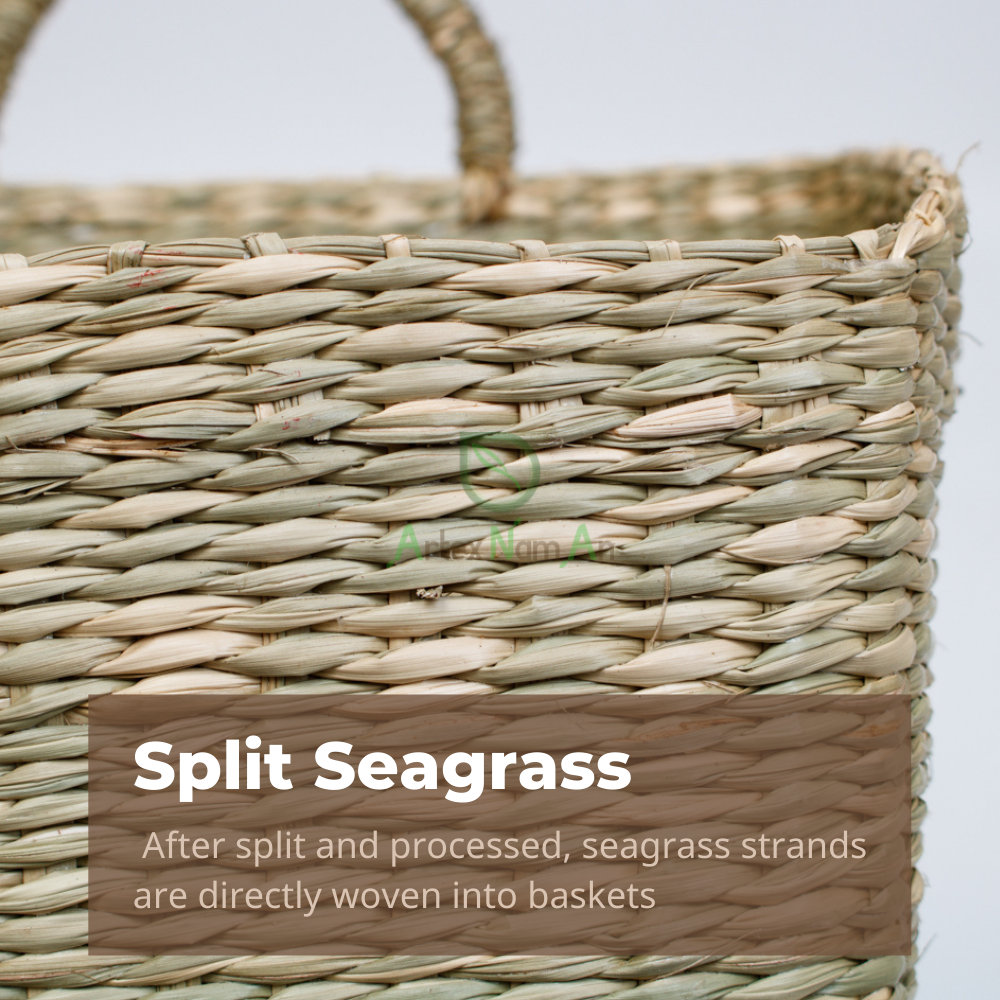 This is one of the most basic and traditional styles. The seagrass plant is split into long thin strands by machine, then these strands are woven directly into a product, no need for the twisting or braiding process.
Not having iron frames, split seagrass is not as thick as coiled seagrass, and it can deform over time when put inside with heavy items.
That being said, natural storage baskets with split seagrass are lightweight, soft and tough enough for storage purposes.
To create patterns for baskets, producers need to dye seagrass strands first before the weaving step. Another way that producers decorate products is to draw or paint — commonly applied to make colored woven baskets and wall decor plates.
Generally, split seagrass has the lowest cost among all seagrass weaving styles since it is mostly plain weave and does not require much labor cost.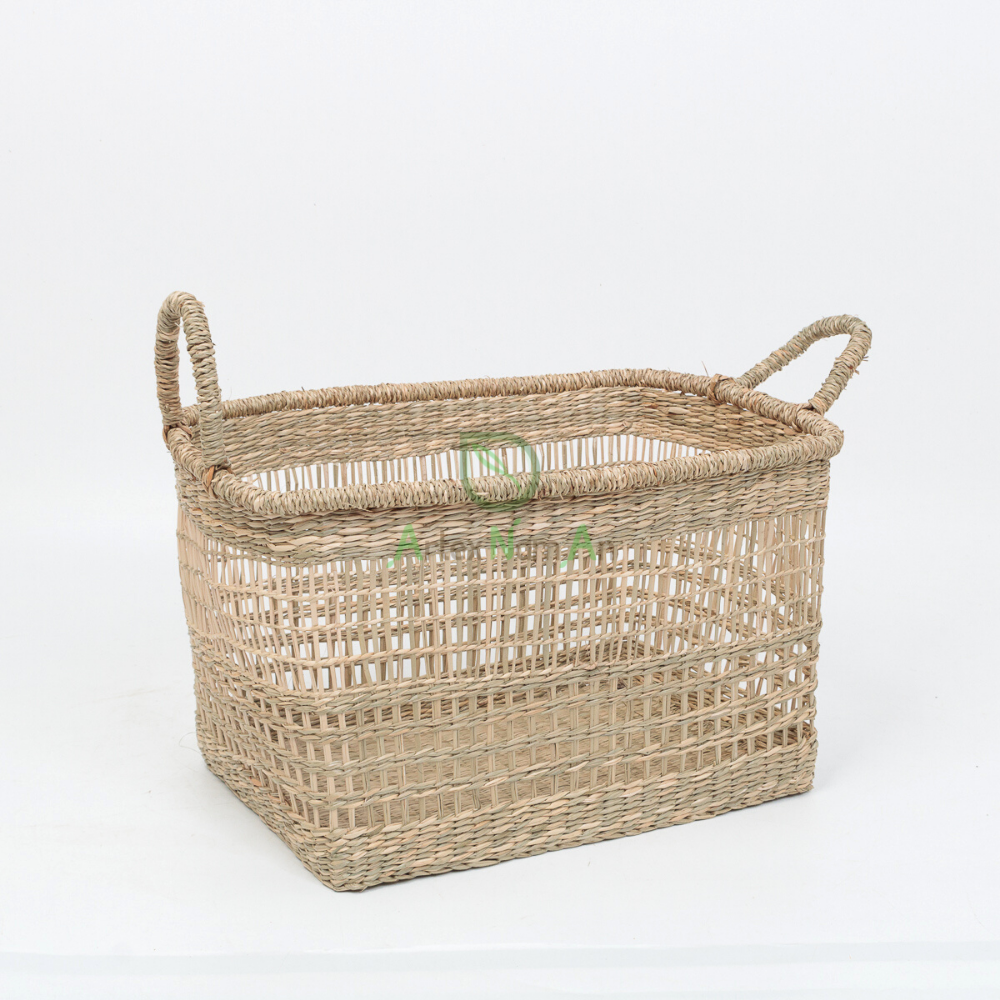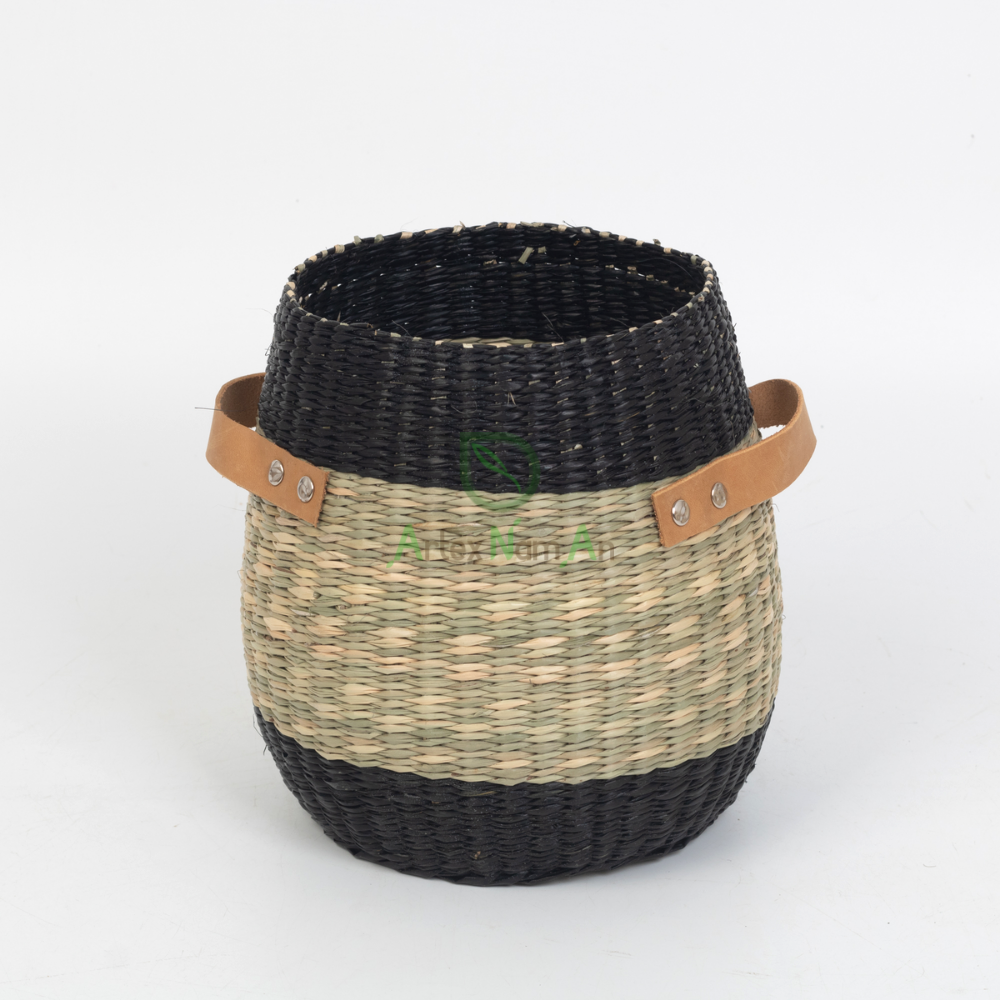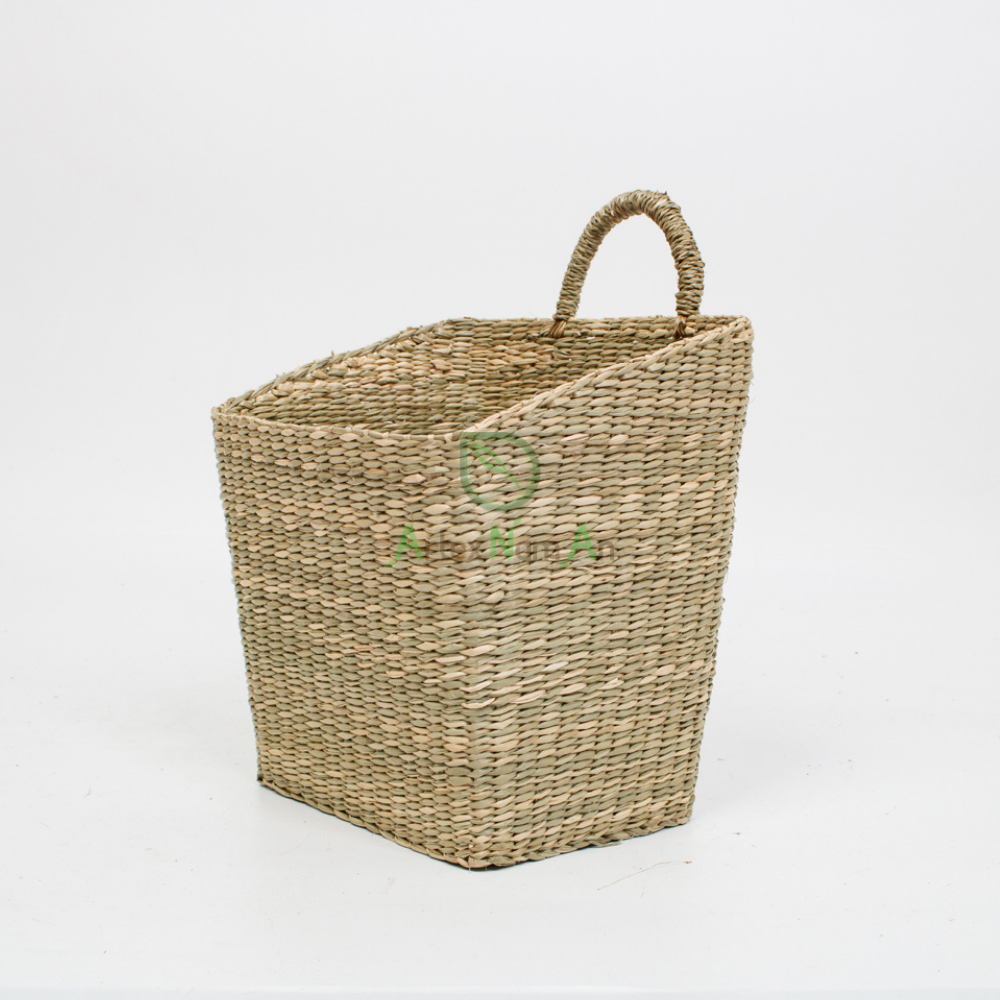 2. Twisted Seagrass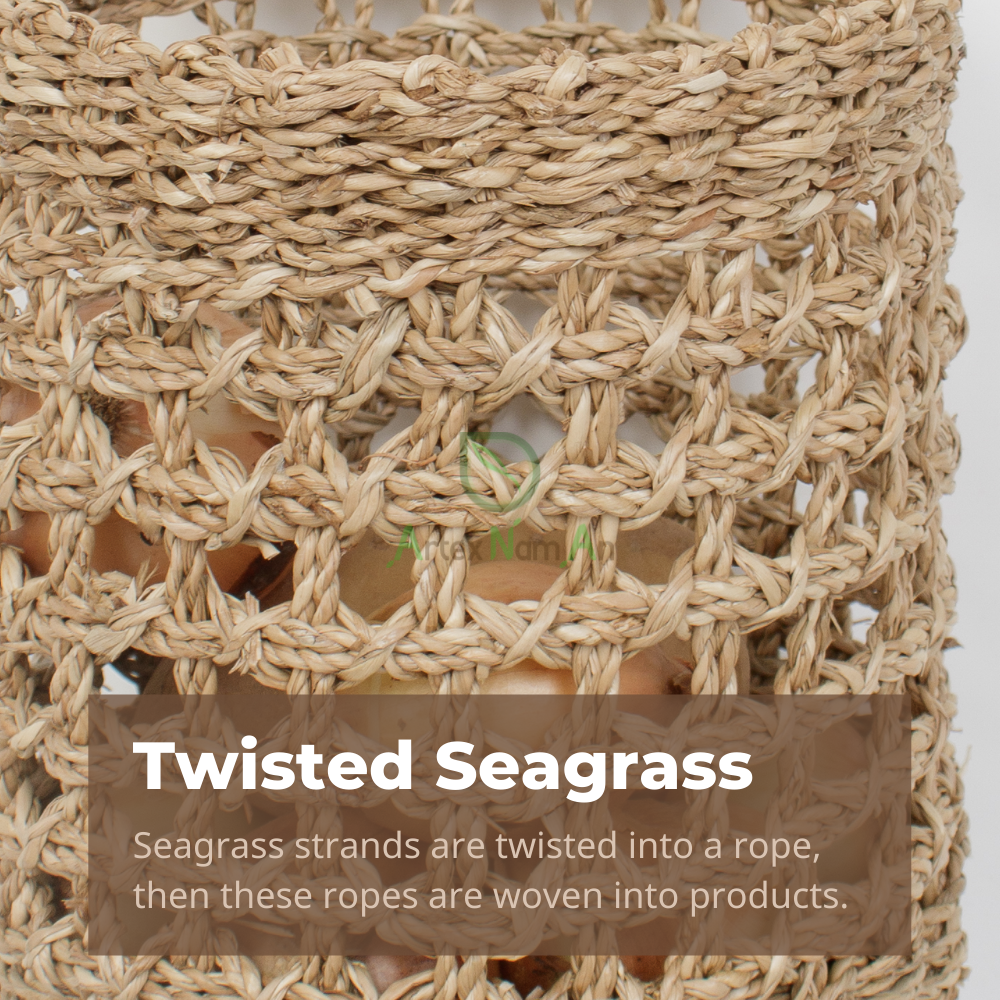 Twisted seagrass is a sub-material created by twisting multiple strands. These ropes are then woven to make wholesale seagrass baskets.
Aside from many rope diameters, there are various styles for baskets with twisted seagrass such as close weave, open weave, plain weave, checkered weave.
Durable and relatively tough, twisted seagrass is not only used in weaving baskets, but also seagrass storage cubes, carpets, rugs, trays, planters, etc.
Not all split seagrass baskets require iron frames, but iron frames will help baskets get sturdy and in good shape. Wholesale seagrass baskets without iron frames can get deformed, though still durable for storing from small odds-and-ends, toys to books, clothes, fruits, etc.
About price, twisted seagrass is quoted at higher price than split seagrass because local weavers need to spend more time on trimming for products.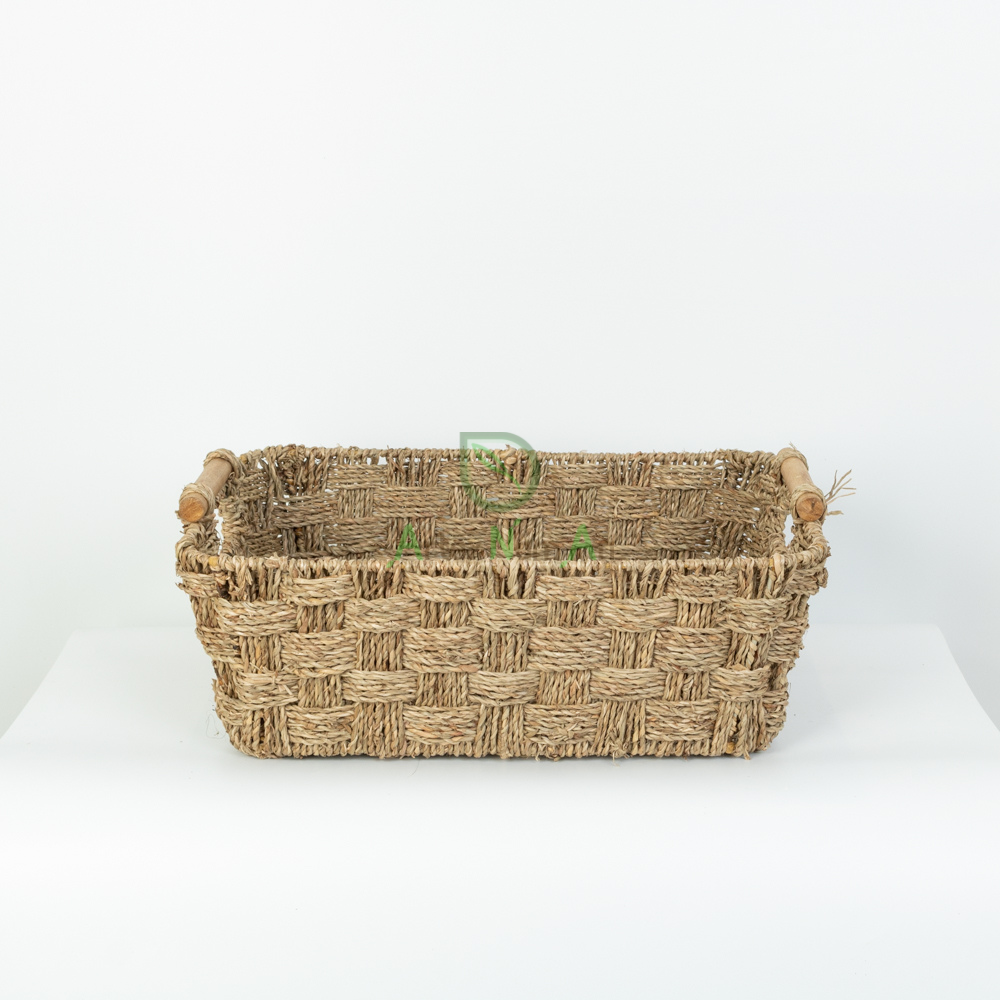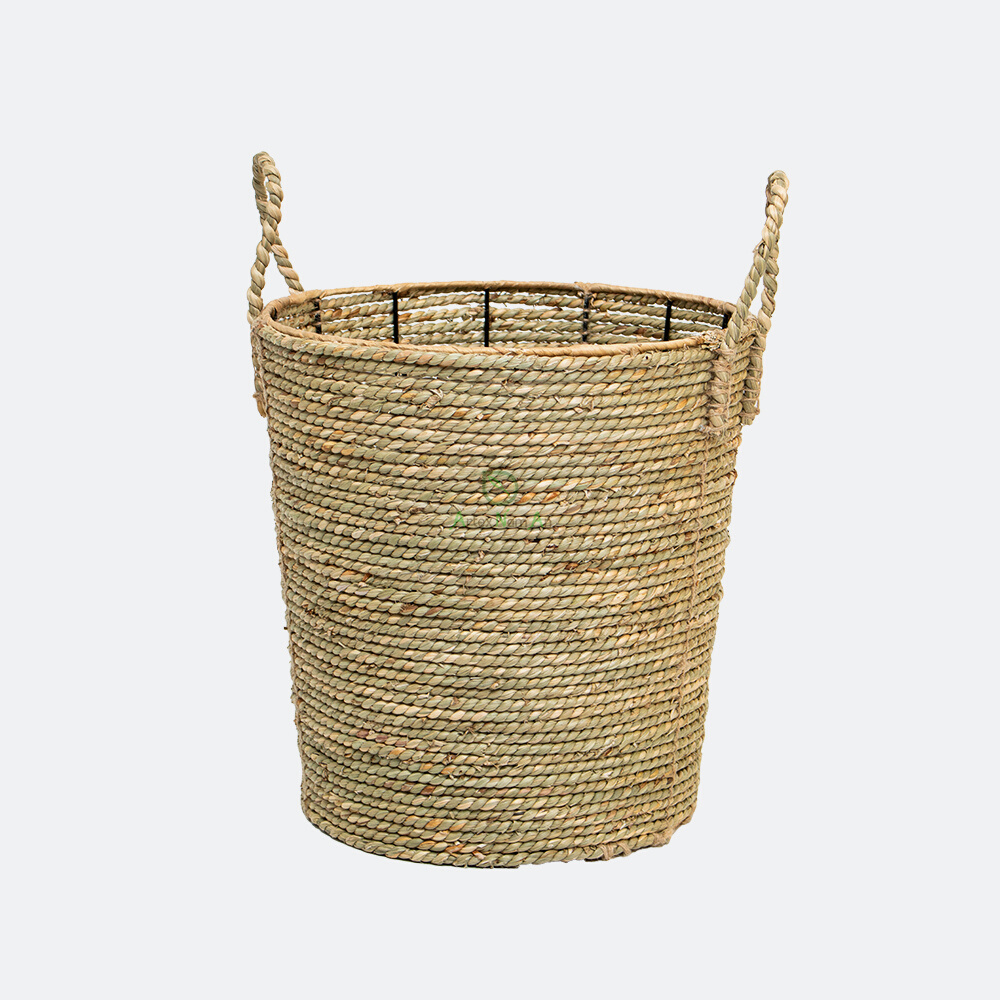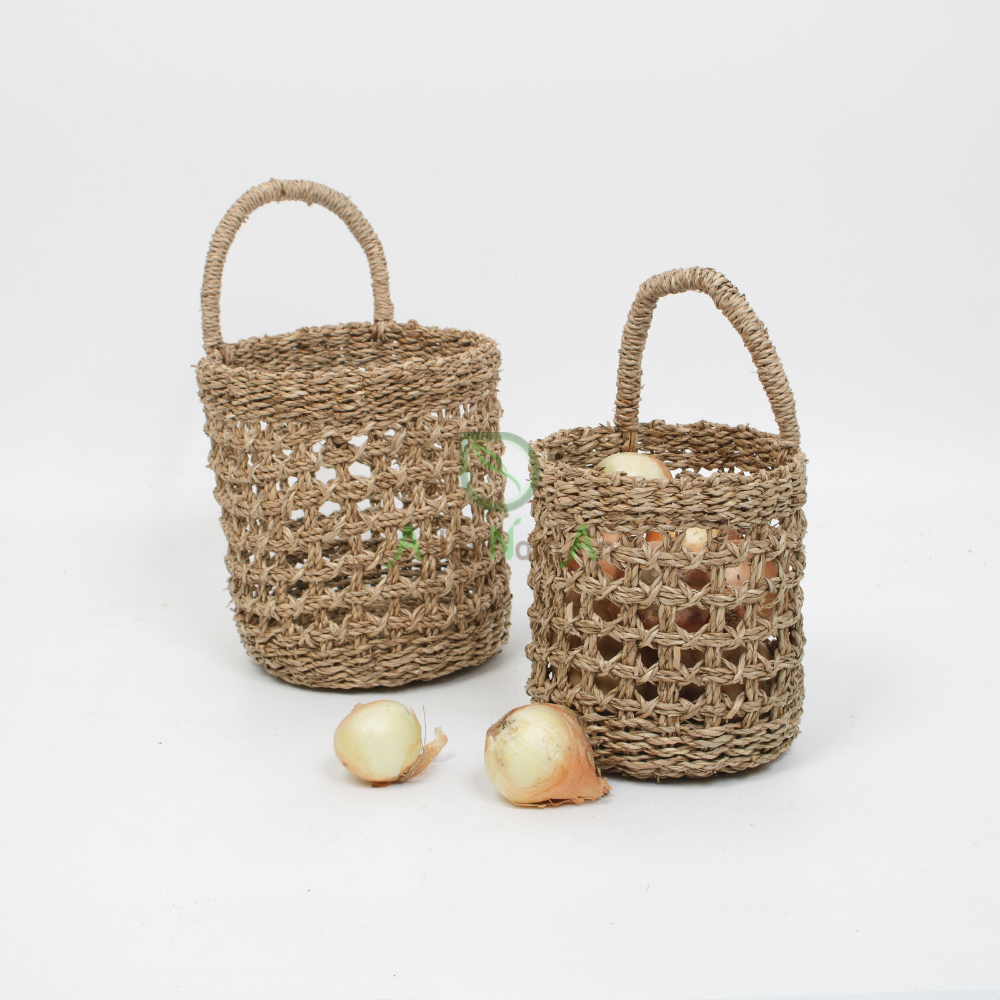 >> READ MORE: 3 Highlights about the Production Process of Seagrass Decor Products
3. Braided Seagrass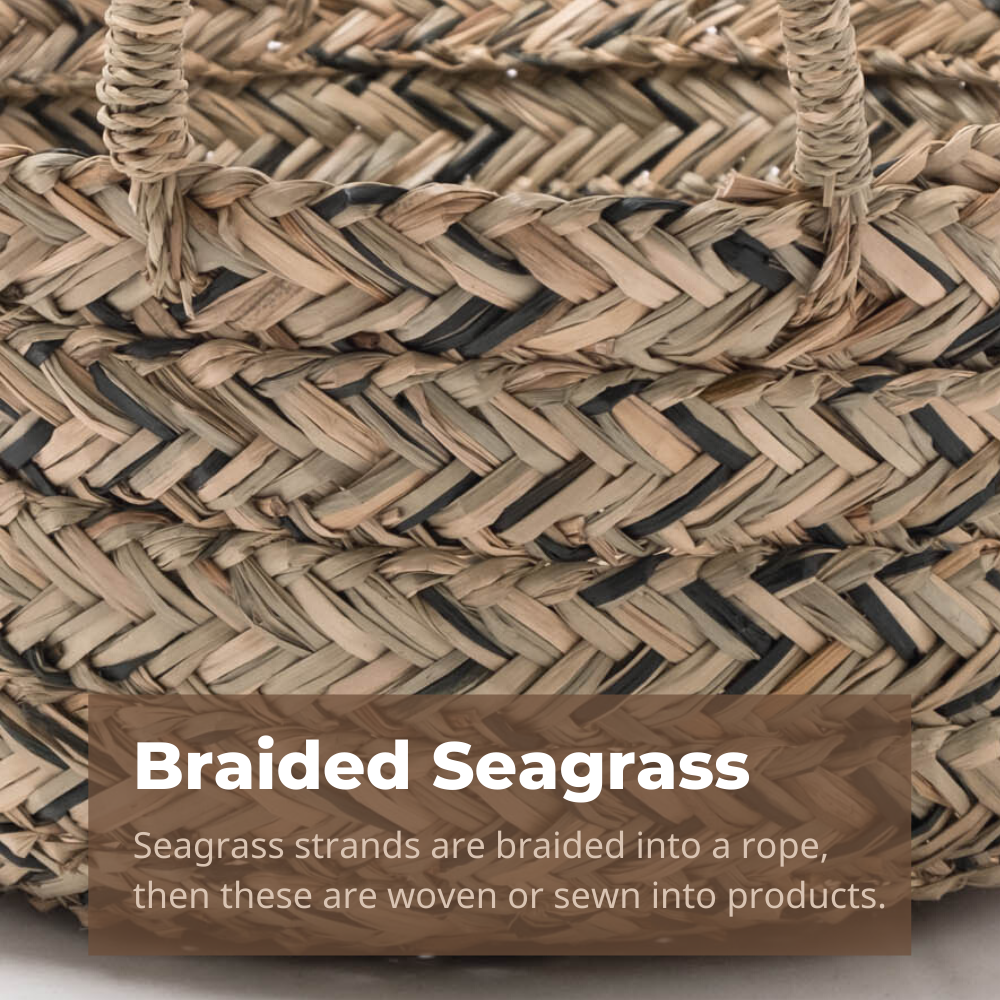 A braided seagrass rope is formed by braiding multiple seagrass strands, embracing a rustic touch. Like twisted seagrass, producers weave or sew these ropes neatly to create wholesale seagrass baskets.
There are also different diameters and styles of braided seagrass ropes (three-braid or five-braid). With this sub-material, wholesale home decor vendors often make baskets without using iron frames. Therefore, the production time is shorter.
Braided seagrass is mainly for producing baskets, as well as planters, rugs, placemats, trays, lamshapes and shopping bags.
Many braided seagrass baskets are in natural brown color. Local weavers can decorate these baskets by dyeing or painting on. However, with the quite rough finish, the paint on braided seagrass is likely to peel off, particularly if the products aren't packaged carefully.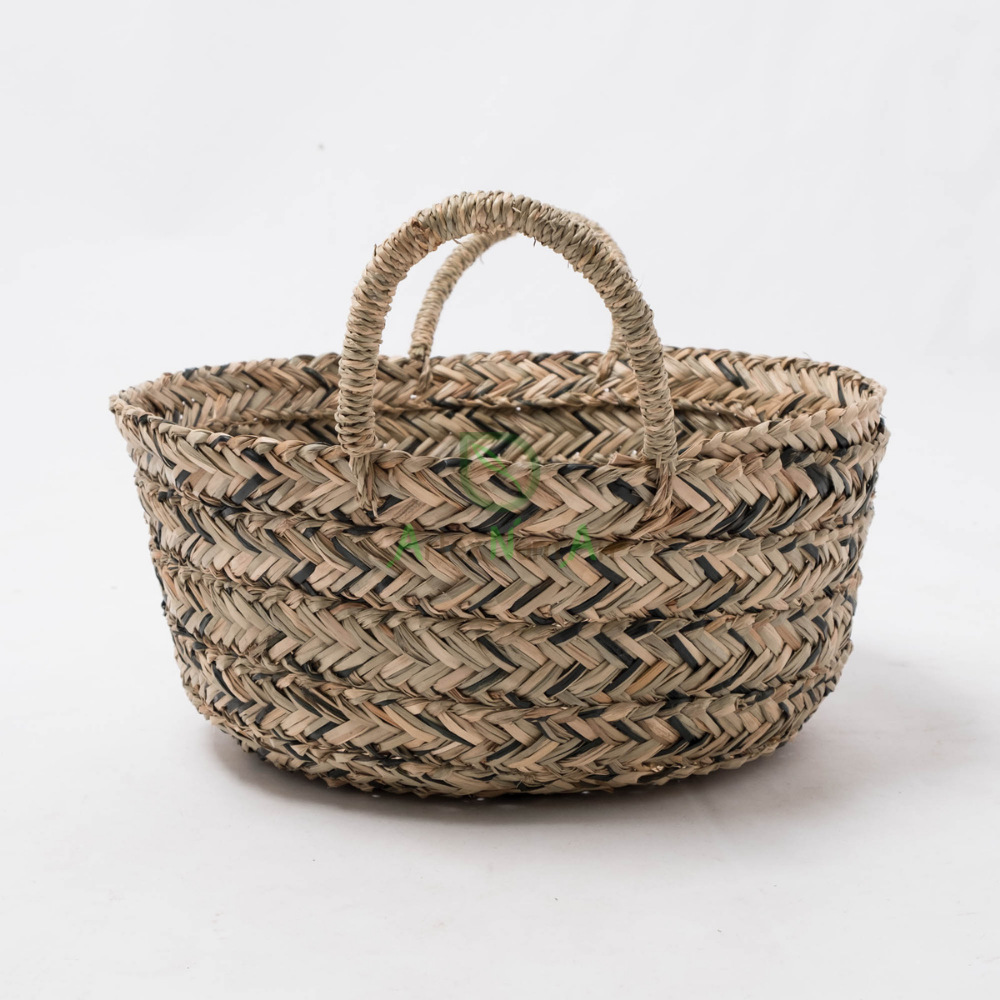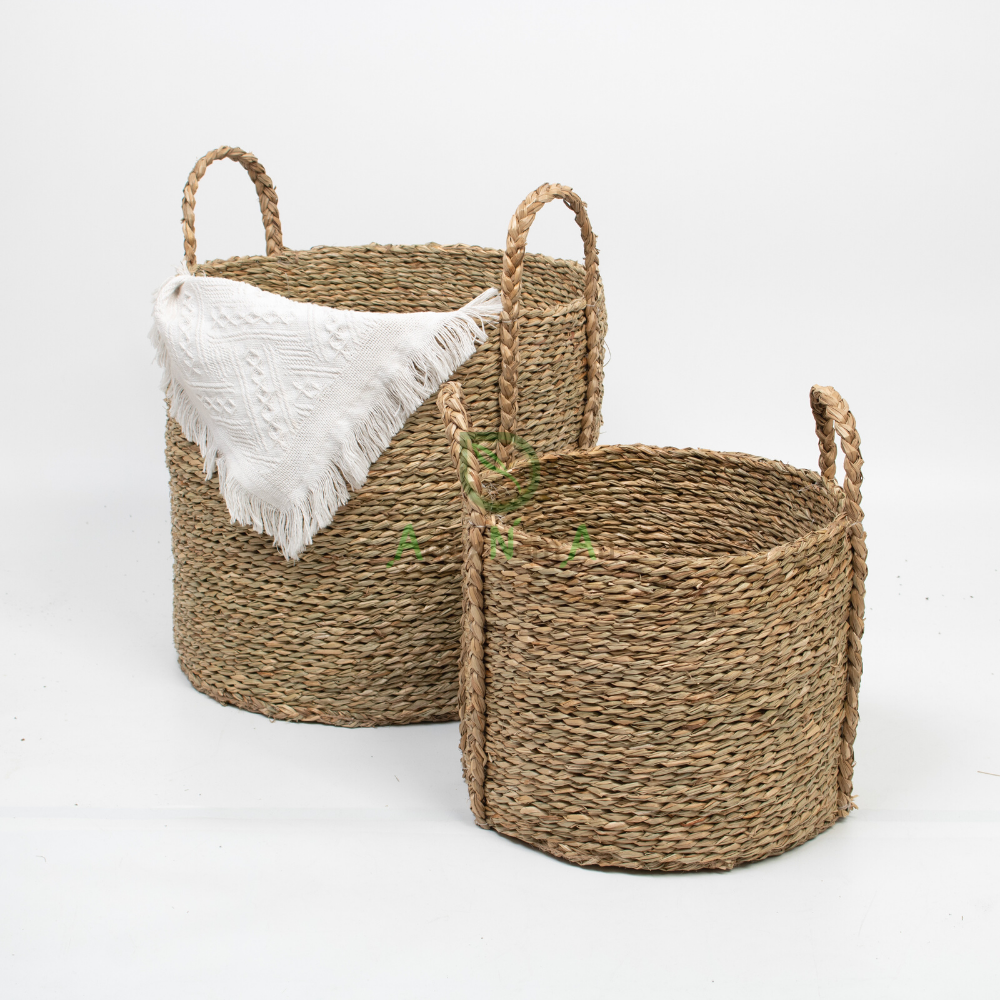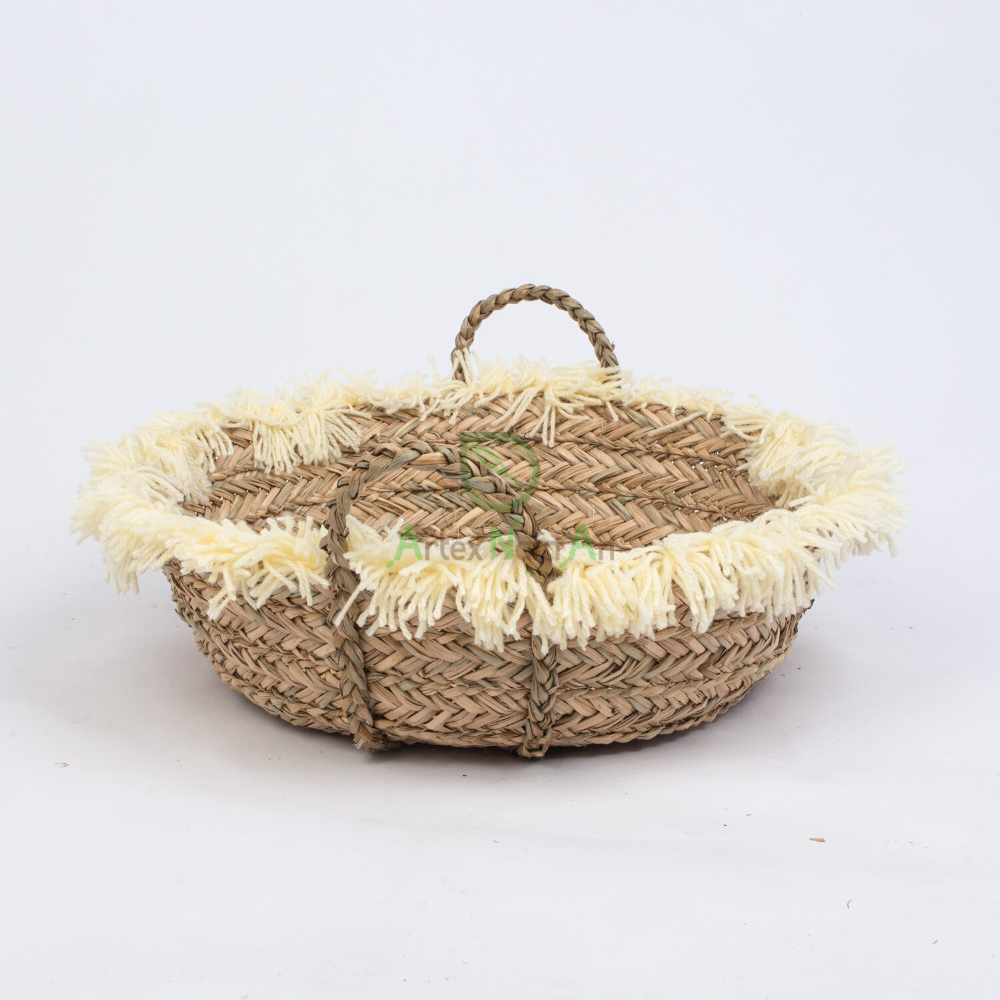 4. Coiled Seagrass
Coiling is a popular technique for making wholesale seagrass baskets. Local artisans coil multiple thin seagrass strands with colored plastic strings.
Coiled seagrass doesn't require iron frames. Yet the weave makes a neat, thick, sturdy weave and contributes to the good shape for long-time storage, even when the baskets carry heavy items inside.
You may find coiled seagrass in laundry baskets, storage baskets, baby moses baskets, indoor planters, trays, pet baskets and wall decor plates.
In order to create patterns with this seagrass weaving style, artisans need to use different plastic strings. Moreover, they need to pay close attention to every weave: They coil seagrass and also calculate when to change the colors of plastic strings. The larger baskets are, the clear patterns show.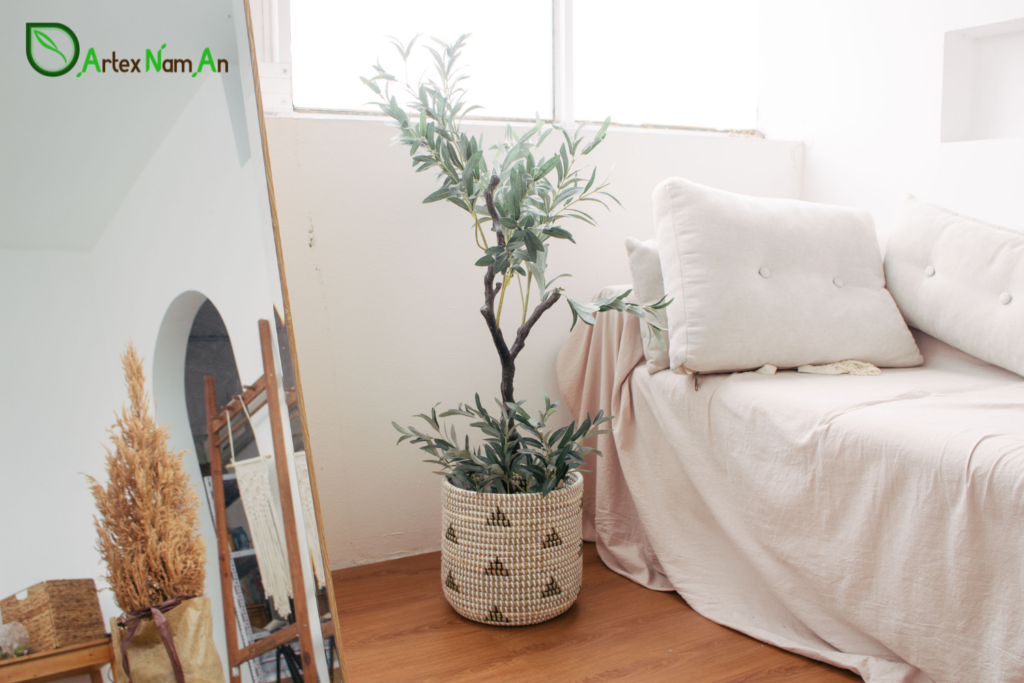 Of all seagrass weaving styles, coiled seagrass commonly has the highest price due to material and labor cost. Weavers use lots of seagrass to form thickness, and multiple plastic strings to make patterns. It also takes more time and effort to do with large dimensions, irregular shapes or complicated patterns.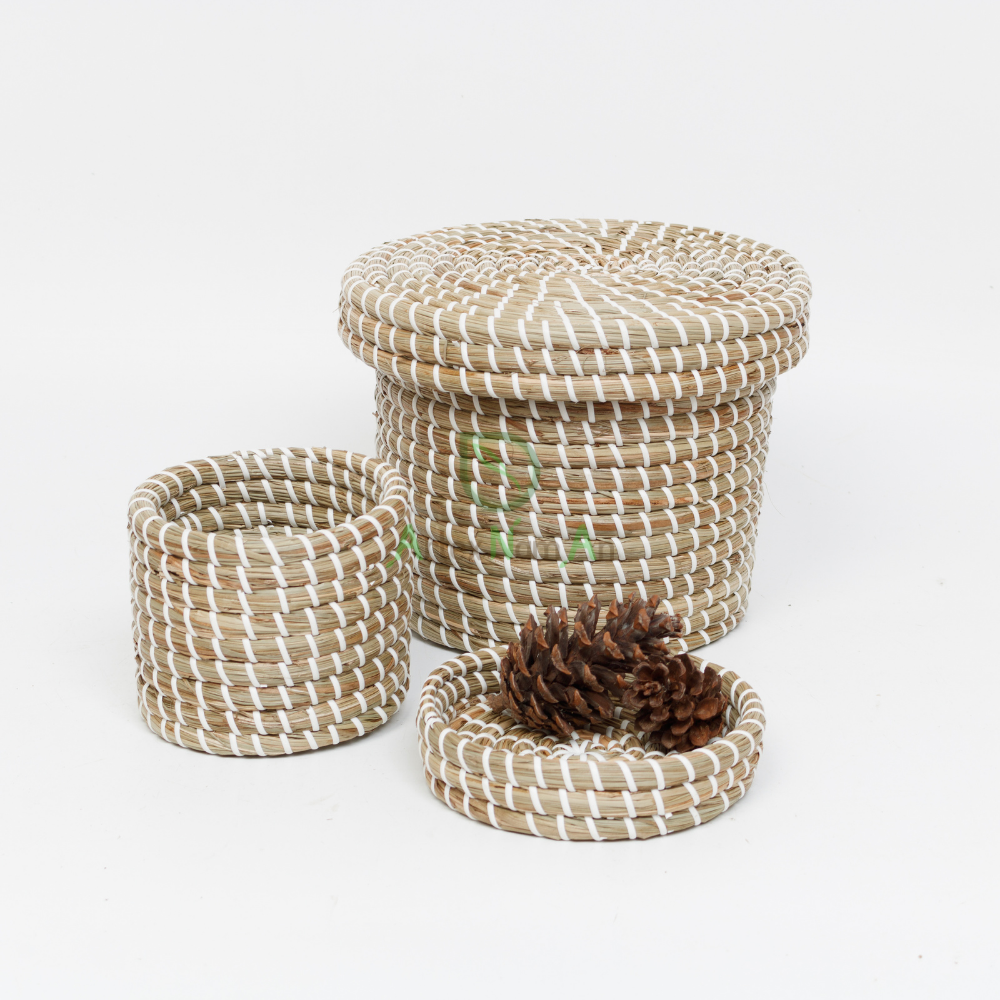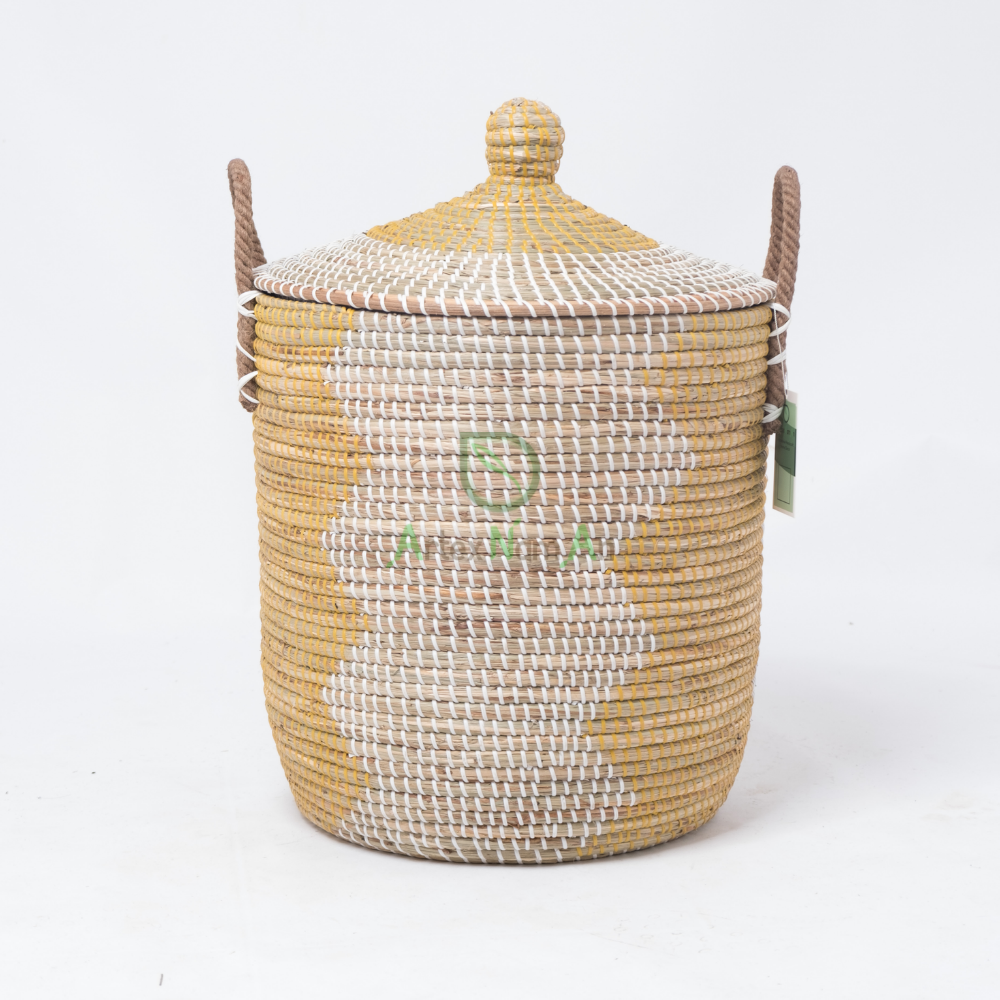 5. Pressed Seagrass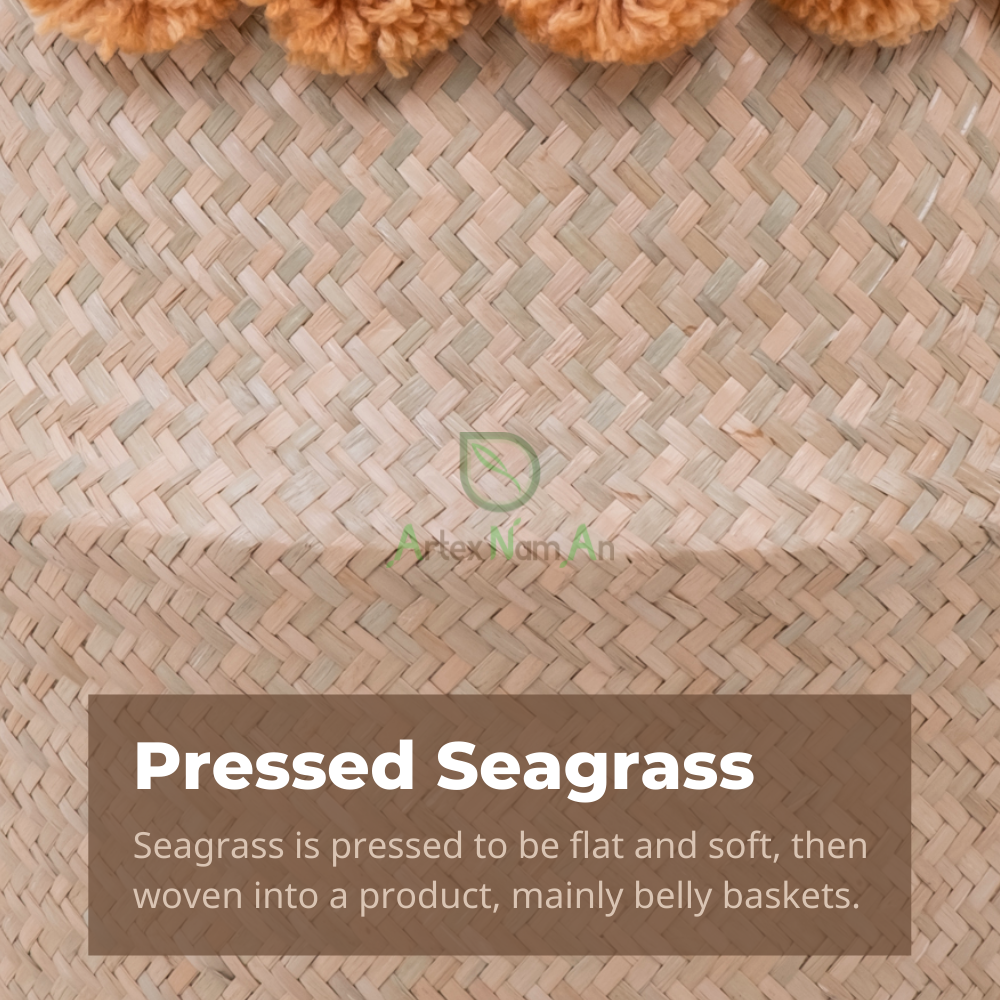 Another popular seagrass weaving style is pressed or flat seagrass. Once seagrass is flattened by machine to become soft and flat, seagrass strands are woven into wholesale seagrass baskets.
However, these woven baskets may get deformed over time or when they carry a heavy load of items inside because they don't come along with iron frames.
Soft, lightweight and super durable, pressed seagrass is a good fit to make various products: storage baskets, indoor planters, placemats, shopping bags, etc. A classic sample of pressed seagrass is seagrass belly baskets — can be folded in half when not in use or during transit.
You might see pressed seagrass baskets with natural color as they're very popular. Having a smooth finish, wholesale seagrass baskets can be decorated by many methods including dyeing, painting, or attaching some pom-pom, leather, etc.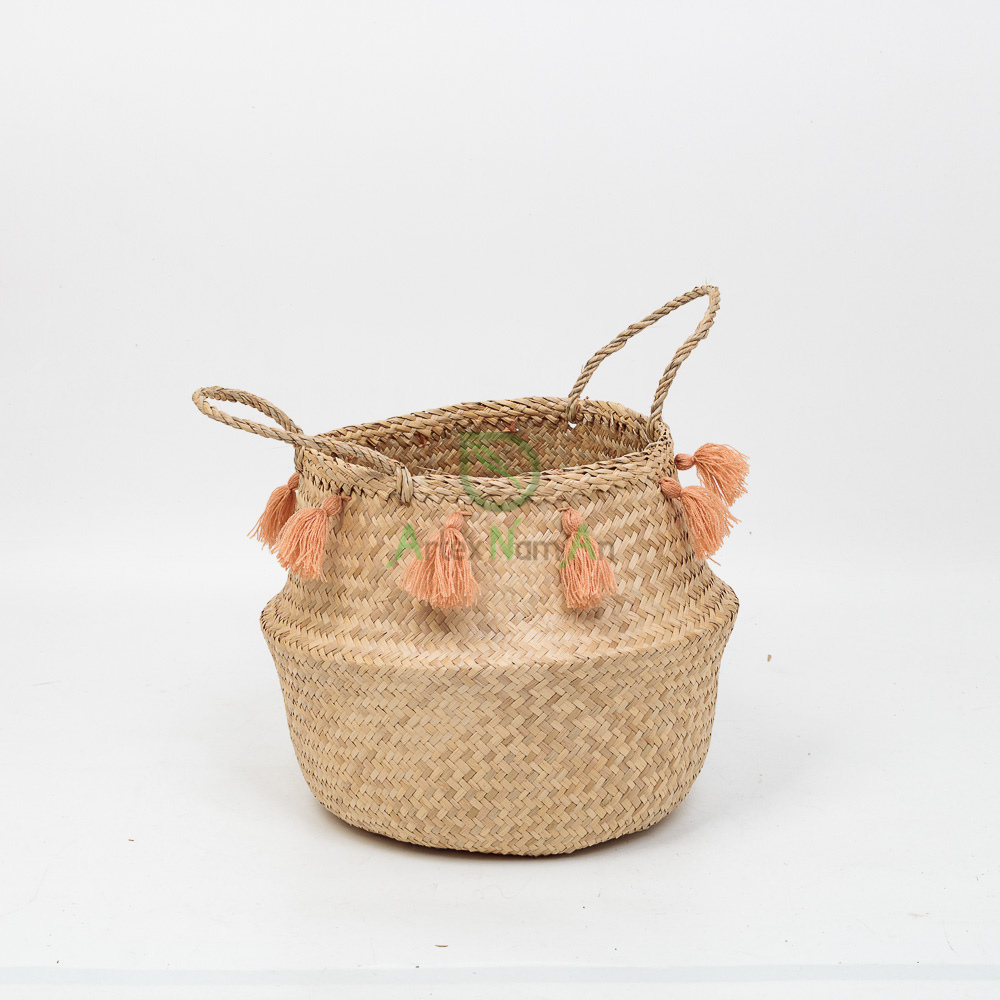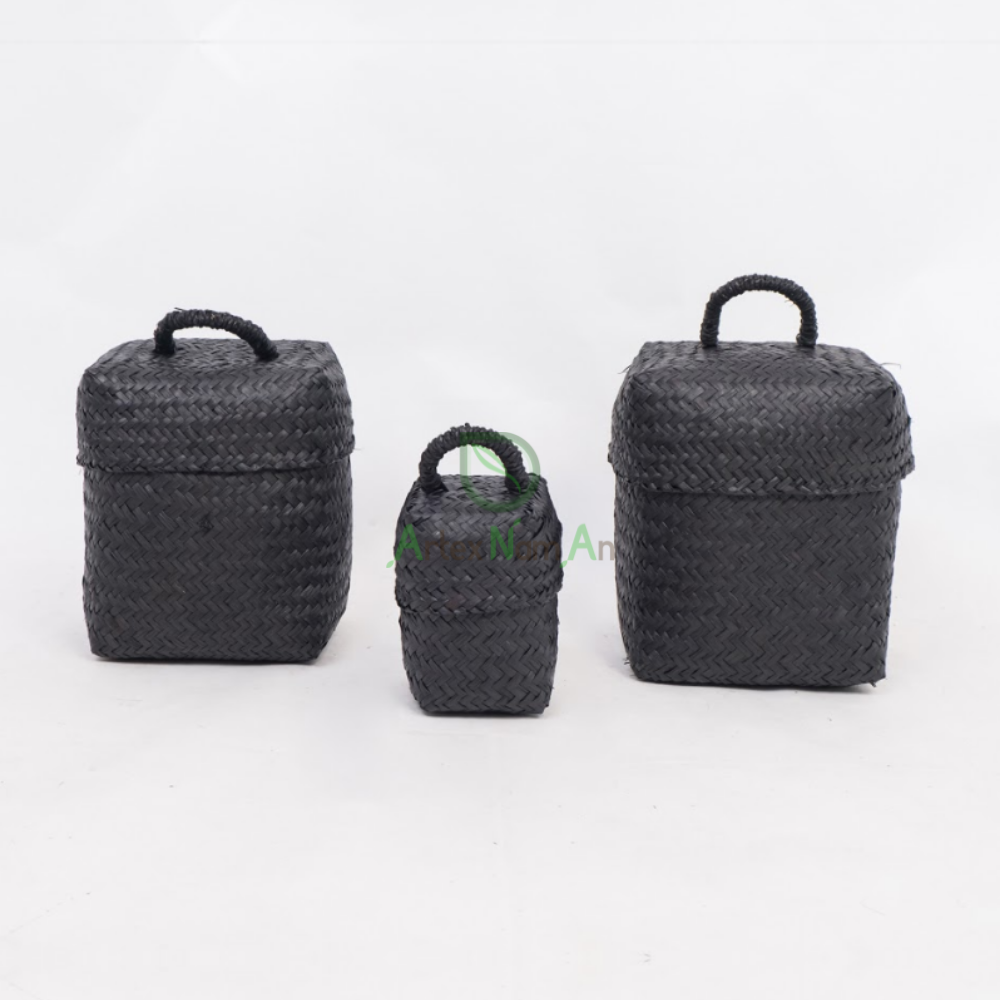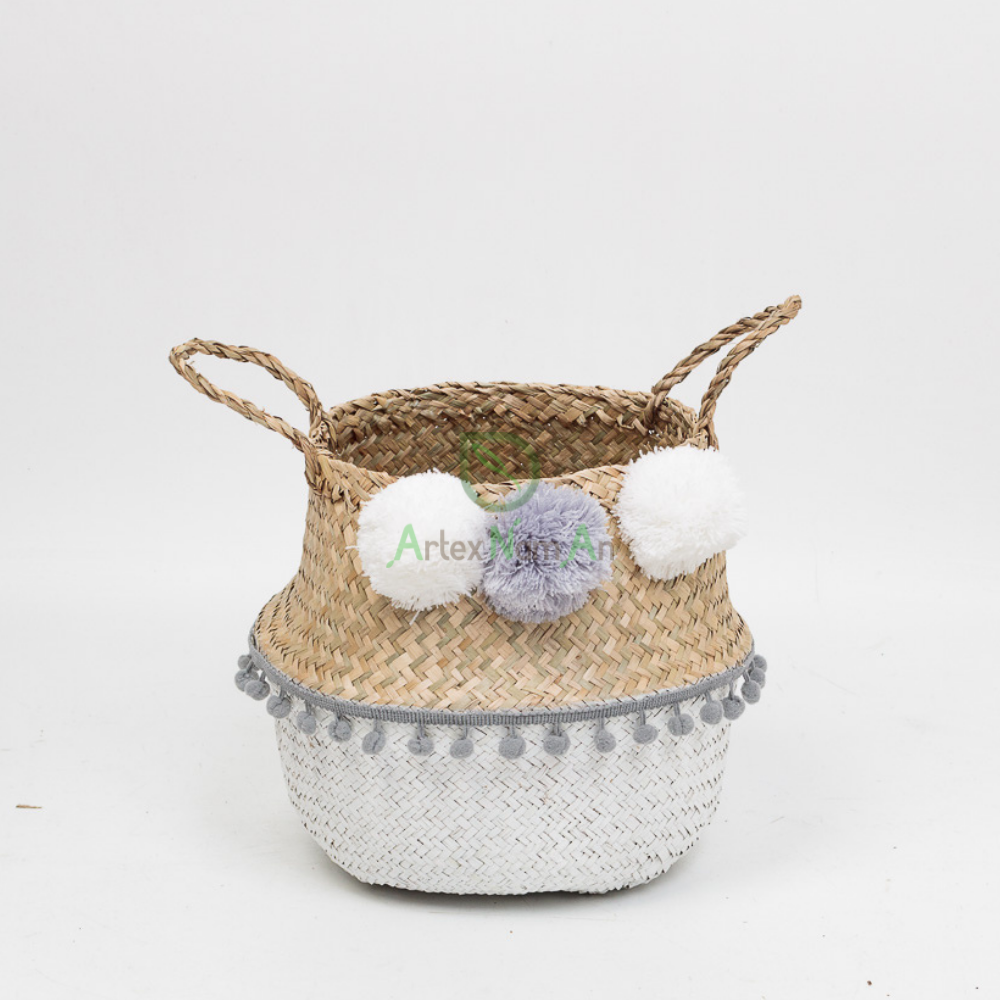 6. Wrapped Seagrass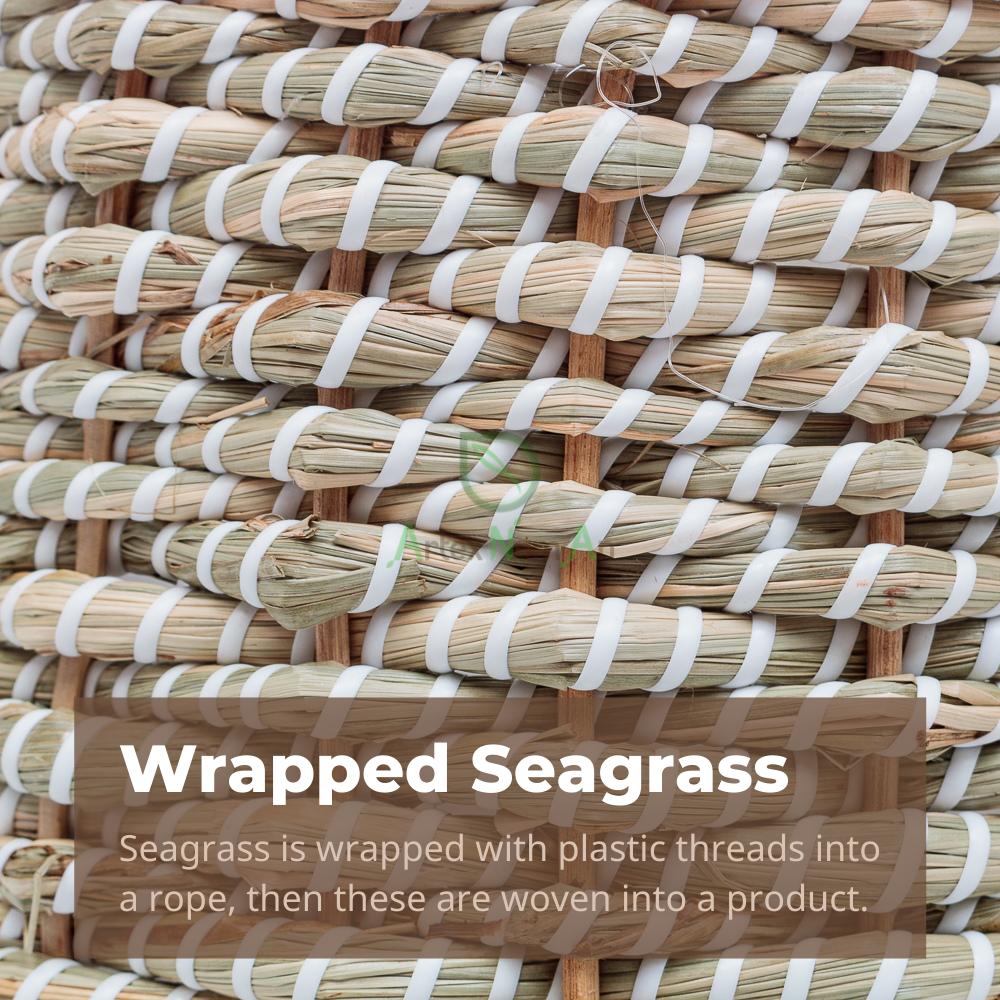 Wrapped seagrass is a technique of wrapping plastic strings around seagrass into a rope, then weaving or linking these ropes neatly into products. This weave grows in popularity and is similar to the method of twisted or braided seagrass.
With wrapped seagrass, local artisans often use rattan frames instead of iron frames.
Wrapped seagrass has almost identical look and features with coiled seagrass in terms of thickness and durability. The two seagrass weaving styles are commonly at equally high prices because artisans use lots of seagrass and plastic. However, there are limited choices of patterns for baskets or other homewares.
An alternative for plastic is cotton strings — thinner, more eco-friendly and still tough. Seagrass wrapped with cotton strings add a more delicate, elegant texture to Vietnam wicker baskets.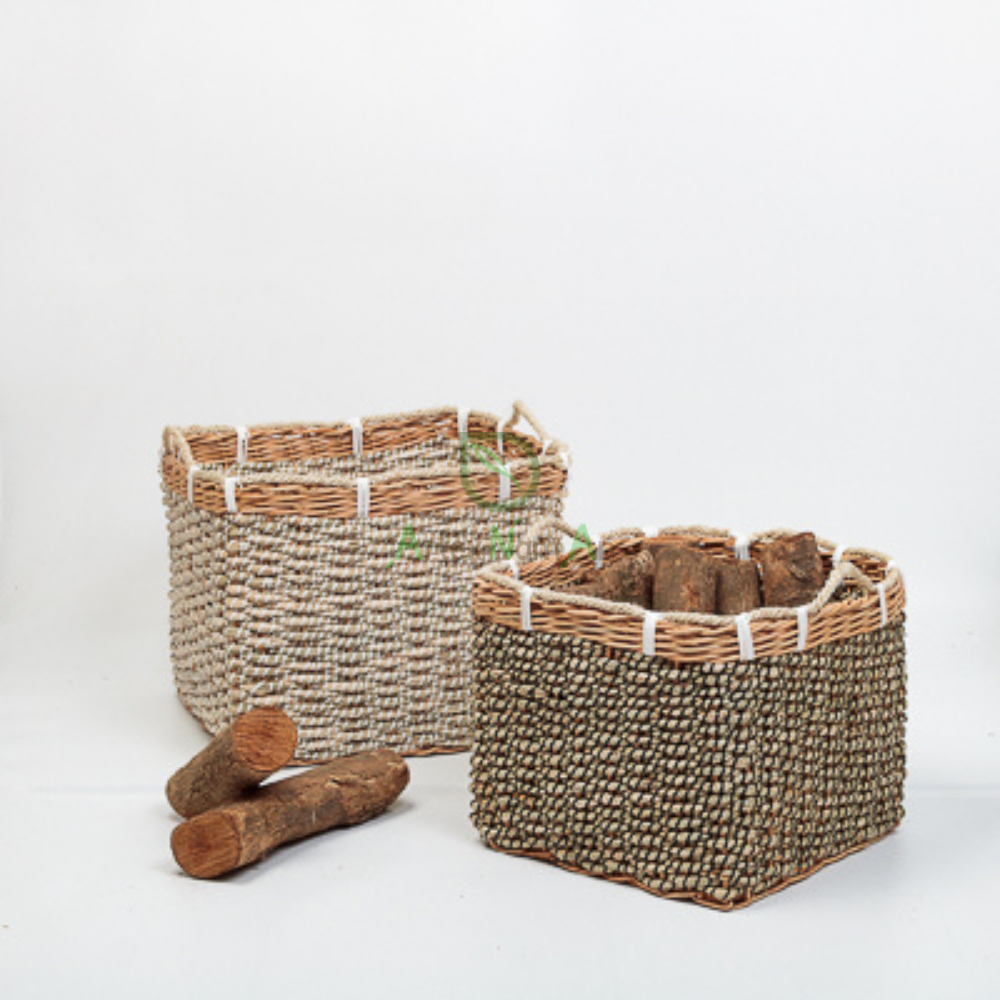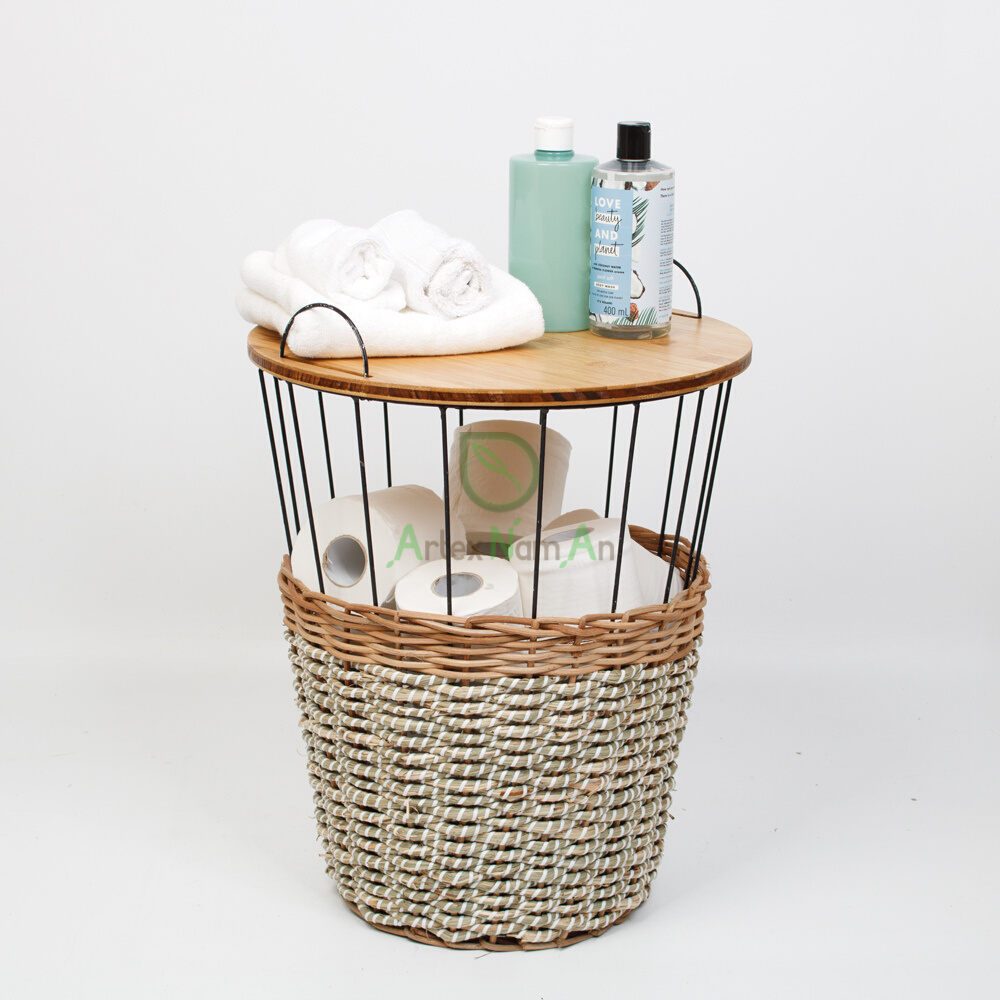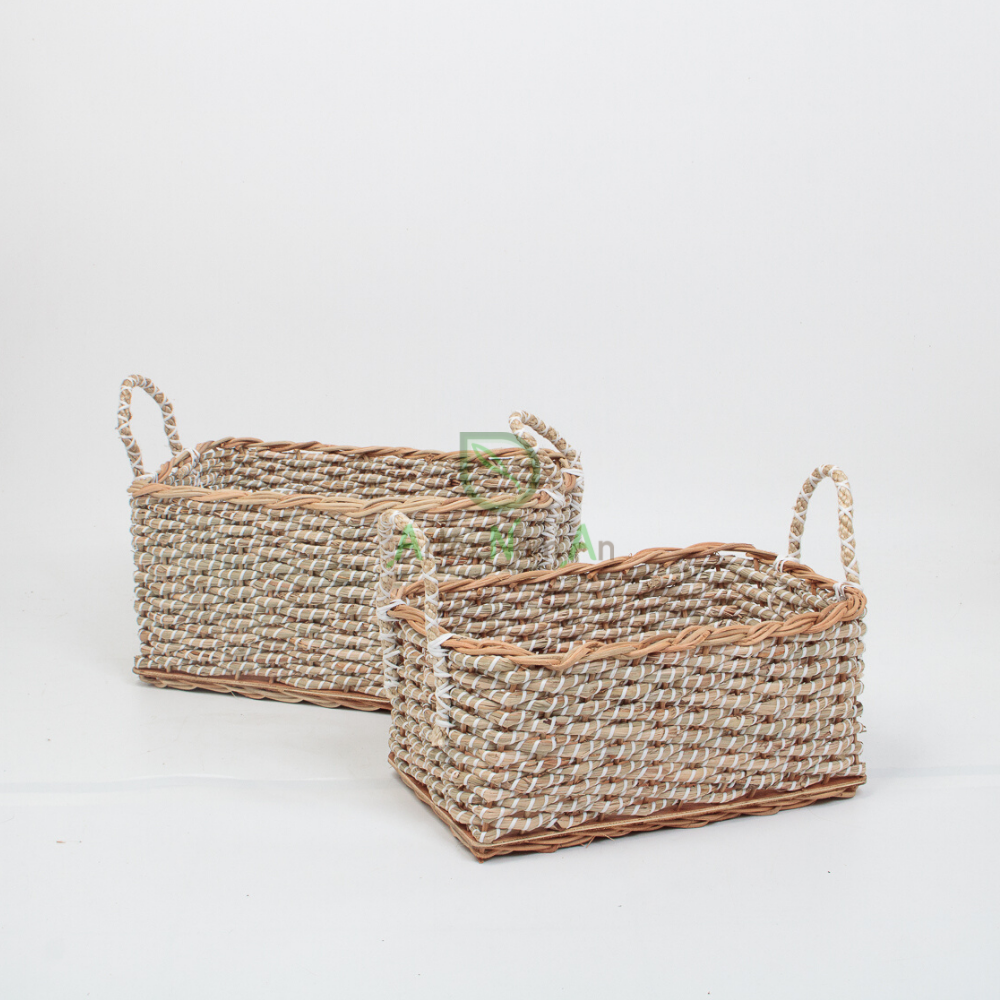 Thanks to its strong structure, wrapped seagrass is applied in many housewares, particularly storage baskets, indoor planters, laundry hampers, and pet houses. One benefit of buying these products is their shorter production time than other seagrass weaving styles of wicker basket bulk.
>> Explore the latest collection The New Wicker 2022 (Wrapped Seagrass)
KEY TAKEAWAYS
Six weaving styles for seagrass wicker baskets include Split seagrass, Twisted seagrass, Braided seagrass, Coiled seagrass, Pressed seagrass, and Wrapped seagrass.
Not all seagrass weaving styles are suitable for all product ranges. Each weaving style has different production cost and times.
The exact prices of a seagrass product need to be re-checked as they depend on not only weaving styles, but also sizes, shapes, patterns, frames, and accessories.
In most cases, seagrass weaving styles aren't mixed together in one product. Seagrass weaves can often be mixed with water hyacinth weaves.